B1 Free Archiver is a friendly cross-platform archive manager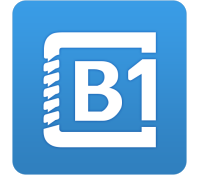 Everyone needs a good archive manager, and you've probably chosen one already. We're fans of 7-Zip: the current release may be three years old, but it still performs very well.
There is some competition around, though, and B1 Free Archiver is an interesting example which really does stand out from the crowd.
The program can be used almost everywhere, for instance. It's available in more than 30 languages, and runs on Windows, OS X, Android and Linux.
B1 Free Archiver doesn't have any adware or other hassles, either. It's open source, genuinely free, and – importantly -- still being actively developed.
File format support is mixed. The program can open all the core file types -- zip, zipx, 7z, rar, tar, iso, cab, jar, qz, bz2, arj, deb and lzh on Windows, even more on Android -- but you're only able to create archives in zip or the program's own b1 format. Which, despite the big claims about its abilities on the B1 site, performed a little worse than 7z for us.
The feature set is relatively basic, too. If you need to create self-extracting archives, say, you're going to be disappointed. But B1 Free Archiver does support 256-bit AES encryption, and can split archives as required.
The B1 file manager has a few small extras. A Preview pane helps to identify some files, and you can open a command prompt (or an Explorer window) at the current folder in a couple of clicks.
There's also an unusually wide choice of default "open" actions. Double-click an archive and you can have it open in the full program, a simple version with just the core options (view, extract to various folders), always extract and prompt for a folder name, or extract immediately without any prompts at all (your files will be extracted to a new folder with the archive's name).
B1 Free Archiver isn't the fastest or most powerful archive manager, then. But it's easy to use, runs on almost anything and is no-strings free. It seems as though the developers have ambition, too, so don't give up on the program if you need more power: just check back in a few months.