Buying the Surface Pro 3? Here are the apps, games, programs and accessories you need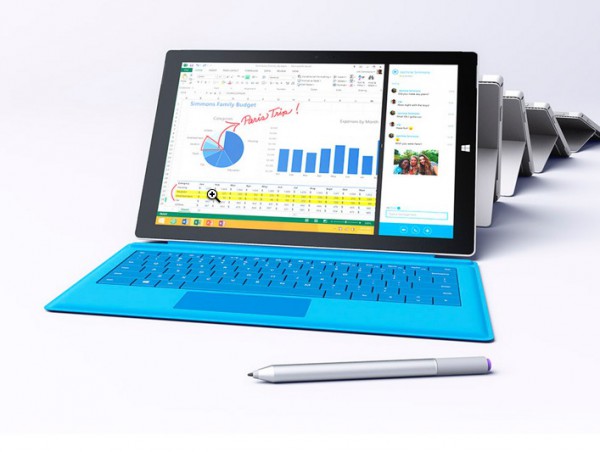 As someone blessed with the opportunity to try the Surface Pro 3 early, I can say it is truly a game changer. It is very light, has great battery life and a big beautiful display. The tablet/laptop hybrid is far beyond offerings by competitors, including Apple. If you even consider buying a Macbook Air over this, you are arguably making a huge mistake.
With that said, the Surface Pro 3 will begin hitting stores this Friday, June 20th. While the computer is great out of the box, it is not complete until you install useful apps and programs. But wait, aren't apps and programs the same thing? Yes and no. They are both pieces of software, but apps run in the Modern UI, and programs run in the classic UI. While Windows RT variants of Surface cannot install extra programs, the Pro 3 can, since it has an x86_64 Haswell processor. Below is a list of my suggested programs, apps, games and hardware accessories.
Accessories
Type Keyboard Cover -- this is the official keyboard accessory from Microsoft -- a must buy to get the full experience. However, the Surface Pro 3 can operate without it. The onscreen keyboard works great and if you need, you can plug any USB keyboard into it for use at a table or desk.
microSD card -- While the Pro 3 comes with an ample amount of on-board storage, you can expand it using a microSD card. 128GB cards have hit the market recently and go for as little as $99, so if you need more room for photos and documents, this is a great way to go. Sure, you can use a flash drive, but that will take up the only USB port on the device.
USB Hub/Ethernet port -- speaking of having one USB port, it is at least a 3.0 variant, so it is fast. You can increase this by using any USB hub. However, I would suggest getting one with an integrated ethernet port. Since the Pro 3 does not have one (WiFi only, folks), it could prove useful in a pinch.
Sleeve -- The Surface Pro 3 is a work of art and it would be a shame to get it dinged up or scratched. Protect your investment with a sleeve or case. Here is one that I recommend and use at Amazon. Fits perfectly.
Bluetooth Mouse -- If you buy the Type Keyboard cover, it has a built in trackpad that works well. However, when doing serious work, I prefer a mouse and I bet many of you do too. The mouse that I chose is the Microsoft Sculpt Mouse. Not only is it Bluetooth and super comfortable, it has been on sale at Amazon for $24.99 -- a steal.
Xbox One Controller -- Microsoft recently released drivers for the Xbox One Controller. This allows you to be better immersed into the game you are playing. While normally $59.99, Amazon has been selling it at a cheaper $49.99. If you like to game, you should buy this.
Dock (eventually) -- While the dock will not be available at launch, this $199 accessory should be on your wish-list. Sadly, it is not yet known when consumers will be able to buy it. The Surface Pro 3 can already replace your laptop and tablet, but the dock will allow you to replace a desktop too. You see, you can leave accessories plugged into the dock such as a 4TB USB HDD, mouse, keyboard and 4K monitor and when you dock the SP3 they will all become available.
Apps
IM+ Pro -- If you like to chat with friends while relaxing on the couch, IM+ Pro is a great way to do it. Optimized for the Modern UI and on-screen keyboard, you can interact with friends on many popular chat networks, including Google's own Hangouts (Google Talk).
KVADPhoto+ PRO -- This is a photo editing app that I stumbled across because it was on sale. I have been blown away by all of the options that it offers. While I own a copy of Adobe's Photoshop 12 Elements, I did not even bother to install it on the Pro 3. You can easily crop and edit photos including fun effects for a paltry $4.99.
MetroTube -- If you like watching YouTube videos, MetroTube is the best way to do it on any platform. It is better than the native YouTube app on iOS and Android or even the web browser. By logging in with your Google account, it syncs up your subscriptions and displays them in a neat and organized way. My favorite part? You can set 1080p as the default viewing option. This way, you can be sure that you always see 1080p when available without a need to switch to it.
Twitter and Facebook -- Social media is all the rage and Windows is right there with competitors. Facebook and Twitter are both available. While the web browser experience is superior for both, the Modern UI apps are convenient when using the computer as a tablet and relaxing.
Kindle -- No explanation needed. Turn the Surface Pro 3 into an e-reader.
Nextgen Reader -- Feedly fan? Me too. It's a great way to keep on top of the news. However, the web client is not ideal for a tablet and Feedly does not offer a Windows 8.x app. No worries, Nextgen reader is actually better than official Feedly apps.
Netflix -- Netflix is still one of the best deals in entertainment. Again, yes you can access it in a web browser, but the app works better in tablet mode.
Fresh Paint -- The stylus/pen that comes with the Pro 3 will help you draw and paint masterpieces. A must download.
Bing Wikipedia Browser -- Everybody loves Wikipedia; well, maybe not college professors -- they seem to frown on sourcing it. Still, the free encyclopedia is a wonderful way to learn about pretty much anything. This app from Microsoft makes searching and accessing Wikipedia even better.
IRC Explorer -- IRC, really? People still use that? Yes, some of us nerds still like to chat in channels about various topics. This is the best Modern UI client available.
Xbox Music -- this comes preloaded, but I highly recommend using it and subscribing. The service is available for iOS, Android, Web and Windows Phone too, so it is very versatile. The Modern UI app is wonderful and enhances the Windows 8.x experience.
Modern UI Games
ilomilo plus -- A cute puzzle/platformer type game where you control two characters and try to get them to meet in each level. It is harder to do than it sounds and looks beautiful.
Rayman Fiesta Run and Rayman Jungle Run -- the original Rayman is my favorite game of all time. Ubisoft smartly made the franchise into a constant-running type game on tablets. This means there is no virtual d-pad to ruin the experience. You just tap to play. Both the graphics and music are wonderful.
Riptide GP and Riptide GP 2 -- Another favorite game of mine is Wave Race 64. Riptide GP and its sequel are similar in that they are jet ski racing with the ability to do tricks.
Nesbox -- Like ROMS? Me too. While we do not condone downloading them, if you do, Nesbox is a wonderful solution, supporting NES, SNES and Genesis. Best of all, like all the games listed above, the Xbox One controller is supported!
Programs
Office 2013 -- The cheaper versions of Surface, the RT models, get Office 2013 for free, while the Pro versions don't. That's not fair! Well, life isn't fair. You will want to buy this immediately. If your employer uses Office, you may be able to get it for $9.99 through the Home Use Program. Even at full-retail price, Office 2013 is worth it for professionals and home users alike. Can you get by with the free Libreoffice? Maybe, but Office is better.
Media Player Classic Home Cinema -- While an app like Netflix is great for streaming videos, Media Player Classic Home Cinema is the gold-standard for local video playback on Windows.
Transmission-Qt -- If you fancy downloading torrents, there are many options available. Unfortunately, many are bloated and full of ads and spyware. Transmision-Qt is a port of the classic Linux torrent client, Transmission. No-nonsense and straightforward.
7-Zip -- Winzip? Winrar? Old news. Get 7-Zip for packing and unpacking files.
Foobar 2000 -- While streaming music services like Xbox Music and Beats Music are all the rage, many of us still have locally stored music. Foobar 2000 is both a classic and well respected music player for locally stored files. It is lightweight with a basic UI, and that is the allure. It focuses on the music quality rather than bells and whistles.
IrfanView -- For quickly viewing images, Irfanview is a great option. It is no frills and lightweight. It too is well respected and supported for many years.
Paint.net -- For many people, Adobe PhotoShop is not only too expensive and hard to use, but overkill too. Paint.net is a program that offers strong image editing without overwhelming the user. Best of all? It is free. While KVADPhoto+ PRO offers much of the same functionality, Paint.net uses a classic UI which some will prefer.
mIRC -- If you prefer your chatting in the classic UI rather than Modern, mIRC is the best. I suggest trying IRC Explorer first, and only installing mIRC if you do not like it.
Firefox -- Internet Explorer 11 is a wonderful browser. However, I have encountered sites that do not work well with it, such as Google Play Music. While I prefer Chrome overall, I have found the fonts to be blurry on the Surface Pro 3's hi-res screen. Firefox however, looks great and performs wonderfully on the tablet. Fonts are clean and crisp and easy to read. I suggest using Internet Explorer 11 most of the time and only switching to Firefox if a rare incompatibility rears its head.
CCleaner -- After installing and removing programs, a lot of crap gets left behind in the registry. Not to mention, when you surf the web, many cookies are left behind along with cache. If you feel very strongly about privacy or keeping your registry clean, this is a great program to run every once in a while.
Conclusion
While you may not need all of these apps, games and programs, I suggest giving them a try. Sometimes you simply aren't aware of all of the great software available for Windows.
So, what am I forgetting? Please leave suggestions in the comments if you think I've left something off the list or there are better alternatives.