HotKey Resolution Changer switches screen resolutions with a keypress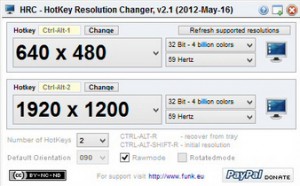 Changing screen resolution on a PC is normally done via the Display applet. In Windows 8, say, you'd right-click the desktop, select Screen Resolution, choose your preferred resolution, click OK and confirm the results.
While this isn't difficult, it does take a few clicks. If you're adjusting your resolution on a regular basis then you might like to try HotKey Resolution Changer, which allows you to tweak your settings with a keypress, or from the command line -- no other steps required.
The program is free, portable and a personal project, so there's no adware to worry about. Just unzip the download and it's ready to run.
On first launch HotKey Resolution Changer displays two shortcuts. Each can be assigned a resolution, color depth, refresh rate and hotkey. Minimize the program to your system tray and it'll switch screen resolutions whenever a defined hotkey is pressed.
If two resolutions aren't enough, right-click HotKey Resolution Changer's system tray icon, select a higher value (anything up to 9), and set up each one to suit your needs.
In theory, at least, you should be able to set up a shortcut to rotate the screen by 90 degrees, sometimes useful for reading text. This didn't work for us, but then we were using the program on Windows 8, which isn't officially supported (although otherwise it ran just fine).
There was better news with the command line mode, which can set a defined screen resolution from a shortcut or script. It's able to launch a program, too, helpful if you've an application which runs better in some non-standard resolution.
The only small concern was the program's "raw mode", which allows you to set your system to any mode supported by the graphics card, regardless of the monitor's capabilities. This adds flexibility, but can also cause problems, perhaps even physically damaging the display, so avoid it unless you know exactly what you're doing. And even then, make sure you remember HotKey Resolution Changer's emergency hotkey, Ctrl+Alt+Shift+R, which restores your initial resolution if there are any problems.
Raw mode is disabled by default, though, so don't let it put you off. For the most part HotKey Resolution Changer just works exactly as it should, changing your screen resolution on demand, and if that sounds interesting then give it a try.