Internet Explorer Developer Channel adds GamePad, WebDriver support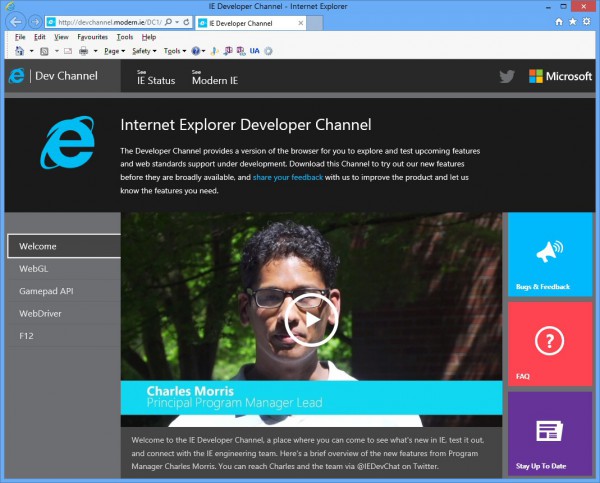 Microsoft has unveiled Internet Explorer Developer Channel, a special preview version of the browser which includes upcoming developer-oriented features and extended standards support.
One major highlight of this release is that it's packaged as an App-V application, which means it runs in a virtualized environment and won't affect your existing Windows or Internet Explorer setup at all. There are none of the usual dangers of installing an unfinished IE build. You can run Internet Explorer Developer Channel alongside IE11 without any conflicts, and uninstall it cleanly at any time.
Once the program is running you'll be able to explore its initial GamePad support, which allows JavaScript to access gamepad stick positions, button presses, connect and disconnect events, and more.
WebDriver support allows developers to run automated tests on their web pages and analyze the results.
WebGL has been enhanced with support for instancing, which could bring major performance improvements in some situations.
More generally, there are many additions to the F12 developer tools. New event breakpoints and tracepoints are triggered when your specified event fires. The UI Responsiveness tool can now export memory snapshots, so you can restore them later and continue your analysis (or share them with others). You get new icon bar notifications, more navigation options and keyboard shortcuts, improved autocomplete, new event filtering, dominator folding and more.
Internet Explorer Developer Channel is available now for Windows 8.1 and Windows 7 SP1 users running IE11.