Samsung Galaxy Tab Pro 12.2: Big, bold and interesting [Review]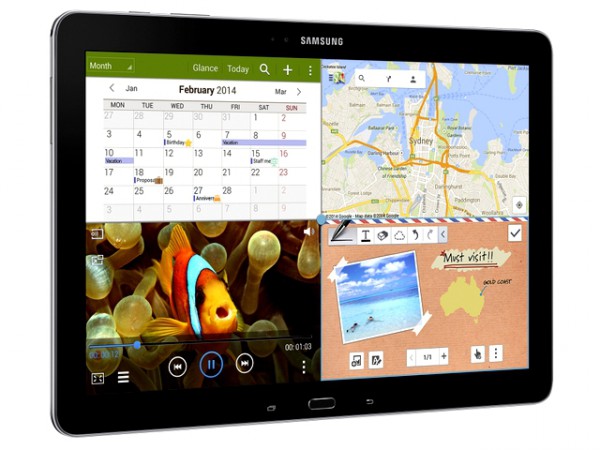 Samsung's Galaxy Tab Pro comes with an 8.4-inch, 10.1-inch and 12.2-inch screen. I reviewed the pen-friendly foil to the largest Tab Pro, the Galaxy Note Pro 12.2 earlier this year, and we've also already looked at the Galaxy Tab Pro 8.4.
What you have in the Samsung Galaxy Tab Pro 12.2 is quite an interesting concept. A giant sized screen, in tablet format, that at £480 for the 32GB version easily costs as much as a good laptop but which lacks a lot of laptop features. There's no capacious hard drive, no physical keyboard, no support for the huge range of apps you might want to run on Windows or OS X.
The first thing to note is that this is an absolute beast of a tablet. Samsung has kept it thin at 7.95mm, but it is nearly 300mm wide and just over 200mm tall. It feels a little creaky and you will certainly want to protect it with a case when it's in your bag. It weighs 732g.
The second thing to note is that, obviously enough, the 12.2-inch screen is the real star of this show. Its size means it can cater for a keyboard layout familiar to users of notebook computers, complete with a number row, caps lock and shift keys. I reached about 85 percent of my maximum touch typing speed on it. The keyboard does obscure a lot of screen space so that you can only see a few lines of text, and that's not ideal. But if you are brain-dumping, doing email, or tackling other tasks that mean you don't have to scan through text, it works well.
The 2,560 x 1,600 pixels deliver great quality. Websites look really good, so does video. But with no kickstand you'll need to prop the Galaxy Tab Pro 12.2 up against something if you want to share screen content easily with other people -- say in a business presentation.
Samsung has engineered the Galaxy Tab Pro 12.2 to be able to display four different apps at once. There is just enough screen space for this to be viable, and you can resize windows by simply dragging them around. To get into multi-window view you just drag a finger in from the right screen bezel to reveal a menu of apps, then drag whatever app you want to multi-view onto the screen. Not all apps are usable in this way, but key software such as email, Chrome, Gallery, YouTube, Maps and S Note are all supported. The smaller 10.1-inch and 8.4-inch screened Galaxy Tab Pro units can only manage two apps on screen at once, incidentally.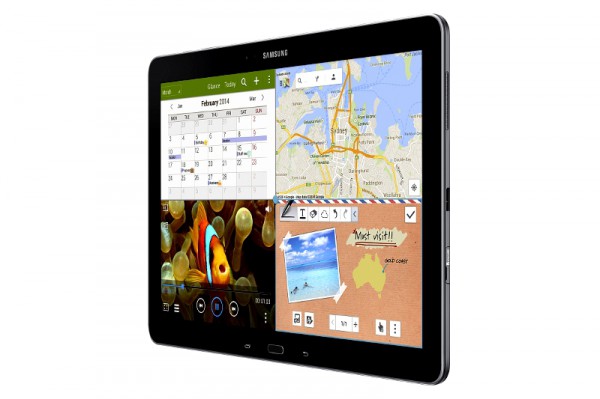 Of course, Samsung has thrown a lot of high-end specifications into the Galaxy Tab Pro 12.2. My 32GB review sample had an Exynos 5 Octa processor -- actually a pairing of two quad cores clocked at 1.9GHz and 1.3GHz. With 3GB of RAM on board it seemed nippy.
Android 4.4 is accompanied by Samsung's TouchWiz skin and a whole host of tweaks and add-on apps. The software bloat of old has disappeared, though, and the extras have been pared down. Nevertheless, there is a lot on offer here that bulks out vanilla Android, some of it designed for business use -- hence the "Pro" part of the device name.
There's Remote PC for those business people who want access to their main computer via the Internet when they are out and about. Meanwhile E-Meeting is a white-boarding and data sharing app. You can download Knox, Samsung's enterprise mobility security solution, too.

Other pre-installed apps include Flipboard, Dropbox and Evernote. Samsung's SideSync enables data sharing between PC and tablet. Samsung's Magazine UX occupies a home screen to bring you news on topics of your choice. As usual you can't disable this completely, so even if you don't want it, a home screen is still devoted to it. There's also S Note, Samsung's own rather nice note-taking app. Even without the old Samsung software bloat the already noted 32GB of internal storage is reduced to 25.25GB by all the various odds and ends.
The hardware includes infrared allowing you to control devices that support IR and Samsung's WatchON app is added to help out with this. USB On The Go is supported so you can read from a USB stick which has a microUSB connector. This comes in addition to a microSD card slot, of course. The USB port supports USB 3.0 for faster data transfer, and the Wi-Fi is full 802.11 a/b/g/n/ac. A rear-facing 8 megapixel snapper and front-facing 2 megapixel camera are expected components.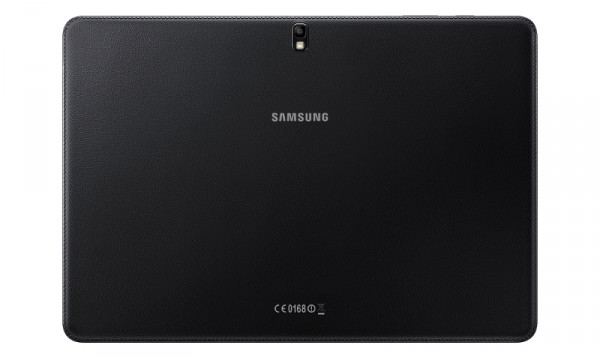 For the most part, I found the Samsung Galaxy Tab Pro 12.2 a joy to use. Yet for such an expensive -- and expansive -- tablet, there are some annoying omissions and errors. Sound quality from the speakers that sit on the left and right edges is tinny. This is a terrible error on Samsung's part as it detracts from any business wanting to use the large screen for presentations. HDMI is not supported, and neither is NFC.
On a purely personal note, the plastic backplate's leather-look design with fake edge stitching just seems wrong on a premium device. And there should be no flex at all in the casing, but there is. Battery life struggles a bit too. I felt in need of a full charge every morning and by late afternoon I wanted to add more juice.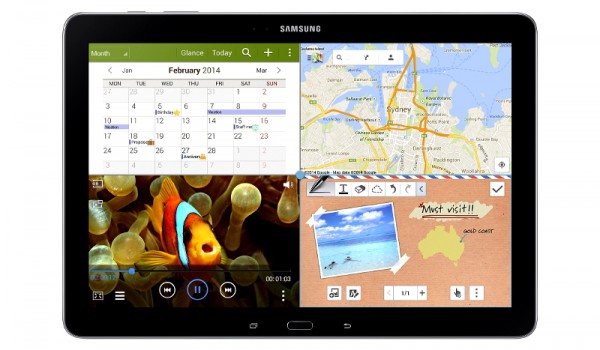 Verdict
I admit to having a soft spot for the Samsung Galaxy Tab Pro 12.2. It is fast, responsive, and the screen is superb. But Samsung does itself no favours by leaving out high-end must-have features like HDMI and NFC, and the below par speakers are a definite thorn. This is an expensive device which Samsung is calling a Pro tablet, and users should get the very highest standard.
Moreover, while the large screen has benefits this is a big piece of kit to carry around, particularly as many business users will likely also need a laptop. If you like the concept, look at the Galaxy Tab Pro 10.1 and 8.4 too.
Specifications
| | |
| --- | --- |
| Manufacturer and Model | Samsung Galaxy Tab Pro 12.2 |
| Processor | Exynos 5 Octa (1.9GHz quad-core, 1.3GHz quad-core) |
| Ram | 3GB |
| Memory | 32GB (25.25GB available) |
| Memory expansion | microSD, USB On The Go |
| Display | 12.2in, 2,560 x 1,600 pixels, 247ppi |
| Connectors | MicroUSB, MicroSD, headphones, USB 3.0 |
| Main camera | 8 megapixel |
| Front camera | 2 megapixel |
| Wi-Fi | 802.11 a/b/g/n/ac |
| Battery | 9,500mAh |
| Size | 204 x 7.95 x 295.6mm (WxDxH) |
| Weight | 732g |
| OS | Android 4.4 |
Published under license from ITProPortal.com, a Net Communities Ltd Publication. All rights reserved.