AOMEI Backupper Standard 2.01 review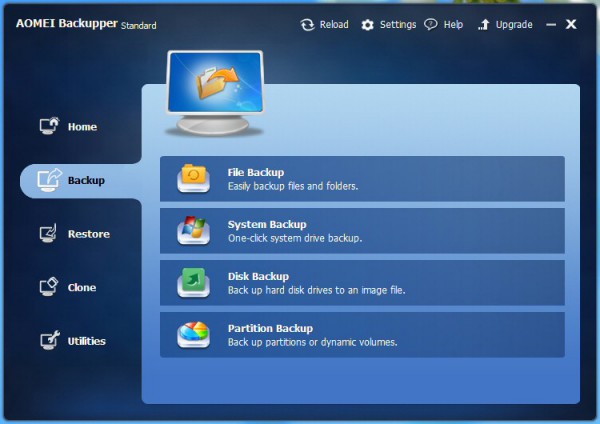 When we first looked at AOMEI Data Backuper in January 2013 it was a capable free image backup tool with some limitations -- no scheduler -- but a lot of promise. Now at version 2.x , and renamed to AOMEI Backupper Standard, is the program worth considering again? We checked it out.
Installation remains quick and easy. It's the free edition of a commercial product, but there's no adware, no nag screens, no unmarked functions which display annoying "can't use this until you pay" messages. Only an unobtrusive "Upgrade" link on the main page reminds you there are other options available.
The interface hasn't changed much since version 1.x, and that's fine with us. It looks good, and is simple and clear, organizing key features into four categories (Backup, Restore, Clone, Utilities) and using a wizard-type approach to walk you through every task.
As before, you're able to back up partitions, drives or your system drive. A host of options includes compression, encryption, splitting, intelligent backups (only back up used sectors) and VSS backup support, and you're able to run fill, incremental or differential backups.
One very major addition is that you're now able to back up individual files and folders. These are more difficult to select than in other backup programs, because Backupper Standard doesn't have its own file viewer: instead, you must choose files or folders by selecting them in regular Windows File > Open dialogs. This won't matter if you're only looking to back up one or two folder trees, say, but could be an issue for more complex backups.
Another big improvement sees the addition of a flexible scheduler. You're able to run unattended backups daily, at fixed intervals, on specific days of the week (Tuesdays and Fridays, say), or on a defined day of the month (fixed -- "the 10th" -- or variable, like "the third Friday"). All that's really missing is support for running jobs on an event ("Startup", "Login", "Shutdown"), but there's enough here for most people. In all cases you can choose to run full, incremental or differential backups, and your job is launched by Windows Task Scheduler so reliability should be good.
Now you can run backups automatically, it's good to see Backupper Standard also supports email notifications, letting you know if a backup succeeds, fails or needs user interaction. This free version doesn't support using your own email account, with the program sending messages from its own server, which left us a little concerned over reliability. But as a plus, it's also easier to set up, as there's no need to specify server names, protocols, passwords or anything else: enable the setting and it just works.
A good range of restore options means you can recover an entire image from the program console, or mount it to select just a few files. New support for partition alignment should help to optimise SSDs when restoring, although we didn't test this. AOMEI now also provides a Windows PE-based bootable recovery disc, too, and there's better support for booting on EFI and UEFI-based systems.
There are plenty of thoughtful touches. Once you've run a backup, say, it's listed on the Home page. You can then restore it, or run it again in a click or two. An Advanced menu allows you to locate, validate or explore the image, edit the backup, even schedule it. And so if you've created a one-off backup job, then decided you want to run it regularly, you don't have to start again: just click Advanced > Schedule, choose your settings and it'll run automatically in future.
This free build does have one notable limitation. It won't automatically delete old backups, so for instance you can't have it always keep the last three: you'll have to manage that yourself. But as restrictions go, that's not bad, and if your destination drive has plenty of space it may not affect you much at all.
AOMEI Backupper Standard still needs a little work. In particular, we'd like an integrated file browser to help you select source files and folders. But overall, it's a triumph -- good-looking, easy to use, packed with features and very configurable – and a must-see for anyone looking for a free backup tool.