Xlideit excels as an image viewer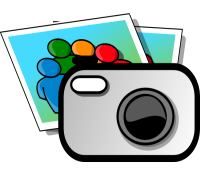 It's tough to make an impact in the crowded Windows image viewer market, and so most newcomers try to impress users with advanced features, like their vast file format support or a lengthy list of editing tools. And that would be fine, except they often forget about the basics, like building a comfortable interface which people actually want to use.
Xlideit is following a different path. There's no RAW format support here, no red-eye removal, no automatic image correction or other extras. Instead the developer is focusing on the interface fundamentals first, and so far he's doing a very good job.
Download, unzip and launch the program and it opens full-screen at your Pictures folder. There's a thumbnail bar at the bottom of the screen, small toolbars top left and to the right, but most of the screen is taken up by the first image.
The core controls are natural and intuitive. Click a thumbnail and that image is displayed; you can pan around an image by clicking and dragging; spinning the mouse wheel zooms in and out; double-clicking an image displays it full screen, then toggles to a normal view; and when you're finished, pressing Esc closes everything down.
Xlideit provides many ways to navigate through your images. You can click a thumbnail, click "next page/ last page" buttons at either side of the thumbnail bar, click and drag on a scroll bar, press the left/ right arrow keys, Home/ End, PgUp/ PgDn. There's even a touch-like feature, where dragging an image to the far left or right acts like a swipe and moves you backwards or forwards. And so, no matter how you normally like to browse your images, you'll probably find Xlideit just works.
You're not restricted to viewing images. There are crop, flip, resize and rotate tools, as well as tweaks for brightness, contrast, saturation, hue and gamma. You're able to convert images between a few formats (JPG, PNG, BMP, GIF, TIF), and there are options to view or clear their tags.
Xlideit can apply these actions to multiple files, too, and this is almost as straightforward as the rest of the program. You might double-click a thumbnail to select it, use the Ctrl or Shift keys to select individual images or a range, press Ctrl+A to select them all: they're all fine. Right-click one of the selected files, choose an option from the menu and it'll be applied to them all.
The program doesn't quite get it right everywhere. When we right-clicked the toolbar and selected Properties, individual buttons were highlighted and we thought selecting one, and pressing Del, might remove it. But no. Although we were working on the toolbar, the focus remained on our photos, and all we'd done was delete the image we were viewing. (It was sent to the Recycle Bin, fortunately, so only a temporary problem.)
For the most part, though, Xlideit works very well, thanks to an intuitive, comfortable and configurable interface, and we'll be interested to see how the program develops in the future.