Logitech brings Nest control to Harmony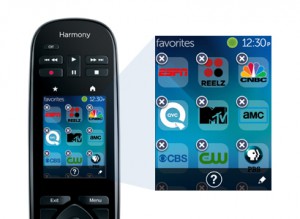 Logitech, which owns the Harmony brand of universal remotes, has recently been updating the line. We finally saw new remotes, along with a keyboard that can control all of your home theater equipment. Most recently the company even added support for Amazon's Fire TV and the Hue lights.
Now Harmony becomes even more friendly to home automation, with the company announcing it is now compatible with Google's latest toy -- the Nest thermostat. "Now, there's no more pausing the movie to grab a blanket or turn on the AC. With this free update, you can view and adjust your Nest Thermostat settings directly from the color touch-screen on your remote. Large arrows on the touch screen allow a quick and simple temperature adjustment, and even support multiple thermostats in different areas of your house", the company announces.
In addition to the features stated above, the new update allows Nest users to change "modes". This means you can switch completely from heating to cooling, or even turn the system off entirely. "The Harmony Ultimate also communicates with Nest's Auto-Away function, so the thermostat knows you're home even if you're snoozing on the couch. Because both the Harmony Ultimate and Nest Thermostat are on your home network, when you pick up the remote it pings the Nest Thermostat and adjusts the temperature according to your settings", Logitech says.
For now, the update is only available for the Harmony Ultimate, which doesn't come cheap at $350. But, if you have the devices to warrant the purchase, then it could be worth your money.