Acronis True Image for Mac launches, offers local and cloud-based drive imaging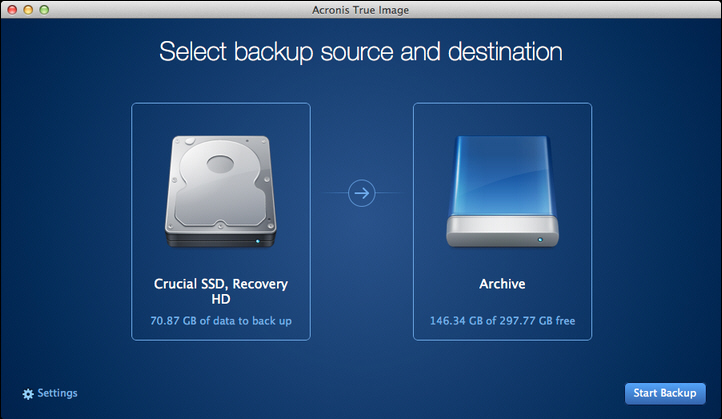 Backup specialist Acronis has unveiled Acronis True Image for Mac 1.0, a brand new build of its well-known drive imaging software for Macs running OS X 10.8 or later.
The new release is described by Acronis as offering "dual-protection data backup" for Mac, a reference to its ability to back up to both local drives -- including network attached devices -- and the cloud through its own Acronis Cloud service.
As the name implies, True Image takes full disk backups known as "images" of the user's Mac, although it's worth noting it's not currently compatible with Macs set up to dual-boot with Windows using the Bootcamp environment. It will, however, back up machines running virtual environments including Parallels Desktop 9.
Users are invited to download a free 30-day trial, which is accompanied by 30 days free access to the Acronis Cloud service, with 250GB on offer. The system drive is pre-selected for backup by default, but users can choose to back up any attached hard drive using the software. They then select a destination -- local and network-attached storage are supported (including drives not specifically supported by Time Machine), along with the Acronis Cloud option.
By default, a fresh backup is taken once a week, with up to 10 incremental backups kept to prevent excessive use of disk space. Users can change the schedule by clicking Settings, and are also encouraged to create bootable rescue media using the system in case of hardware disaster.
When restoring data, users can opt to recover an entire drive image -- typically after a major issue or when migrating to a new machine -- or select individual files and folders to restore.
Acronis admits that -- in addition to Bootcamp -- systems with Fusion drive, File Vault 2 and HFS+ encrypted systems aren't currently supported. Support for these configurations is planned for a future release before the end of the year.
Acronis True Image for Mac 1.0 is available now as a free 30-day trial download for Macs running OS X 10.8 (Mountain Lion) or later. The full version costs $49.99 for one Mac, or $79,99 for three, while a 12-month 250GB subscription to Acronis Cloud costs an additional $49.99. Other subscriptions are also available.