Mount up to 16 disc images simultaneously with gBurner Virtual Drive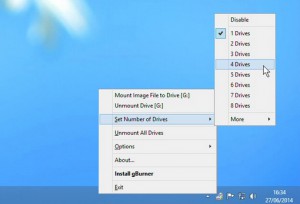 One welcome addition to Windows 8 was its ability to mount ISO images. If you need to explore the contents of an ISO, just double-click the file and it opens in a virtual Explorer drive, where you can browse, play and generally treat it like the original disc. This works very well, too, but there may still be times when you need a little more drive management power.
GBurner Virtual Drive is a free tool which can also mount ISO images in virtual drives. In addition, you get support for another 20+ formats (ASHDISC, DAA, DMG, IMG, NRG and more). You're able to mount up to 16 images simultaneously, and these can be loaded automatically when your PC starts, so they're always available.
Installing the program is quick and easy, and the program initially added a single virtual drive to our system. To set this up we then right-clicked the gBurner system tray icon, selected "Mount image…" and browsed to our image. An Explorer window immediately opened at the new drive, ready for use.
There is no shell integration, unfortunately: you can't right-click an ISO and mount it from the context menu, which may be an issue if you're going to be regularly changing images.
But on the other hand, the program does a good job of automatically detecting image types. We tried giving one ISO a different extension, but gBurner was smart enough to realize what it was and loaded the image anyway.
The system tray menu has a couple of other options you might want to tweak immediately. You're able to set the number of drives available to a maximum of 16. And if you check the "Automount" setting, any images you assign to a drive will automatically be reloaded when your PC next starts.
In another plus point, it's also possible to assign individual virtual drives to a specific drive letter, so you won't have to point your programs to a new location every time.
There's nothing particularly advanced here. No shell integration, no command line interface, no real drive customization options, no tools for creating and managing disc images in the first place. DAEMON Tools Lite, or perhaps ImDisk Toolkit have much more power.
Still, gBurner Virtual Drive handles the core basics well, is easy to use and supports a good range of image formats. If you only need a small step up from the standard Windows 8 technology, it's certainly worth a try.