Microsoft brings better document collaboration to Office 365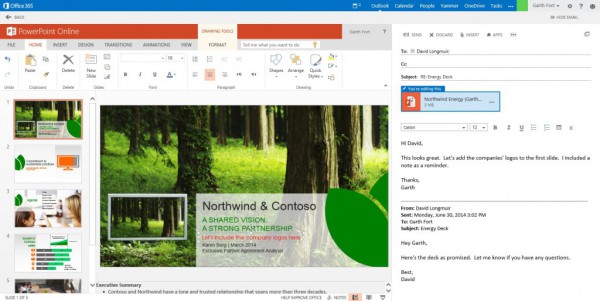 With the introduction of Office 2013, Microsoft brought software as a service to the table -- something some analysts had long expected would happen. Under the moniker of Office 365, the company introduced a subscription model that allows for a monthly or annual fee and grants five licences to each person or family.
Today the software and services company rolls out an improvement to this offering, adding what it calls better document collaboration. The feature was actually announced earlier this year at the Exchange Developer Conference, but only now do we see the final product. Microsoft hopes this will eliminate the need to share documents via emails in an effort to work with other people on the files.
"Today, we're thrilled to introduce the first of these enhancements which aims to improve the way people interact with files as attachments in their email. Now, you will be able to edit a document straight from Outlook Web App and attach this edited document to an email response in just a few clicks", the Office 365 team announces.
Added are side-by-side comparisons, which allow for viewing of the attachment and email next to one another, as opposed to flipping back and forth between the two. Users will also no longer need to download the attachment, as the document can be edited and returned right from this new view.
Finally, Microsoft promises a better user experience overall, with attached files being easier to see during the send process, and the ability to download multiple attachments in one single ZIP file.
"We are excited to deliver the first step in this enhanced document collaboration experience in Outlook Web App. We'll have more enhancements to share later in the year. In the meantime, we look forward to your feedback on how we can continue to meet your needs", the team concludes. The company also promises more enhancements are on the way.