ECS officially announces LIVA -- smallest Windows-based mini PC kit ever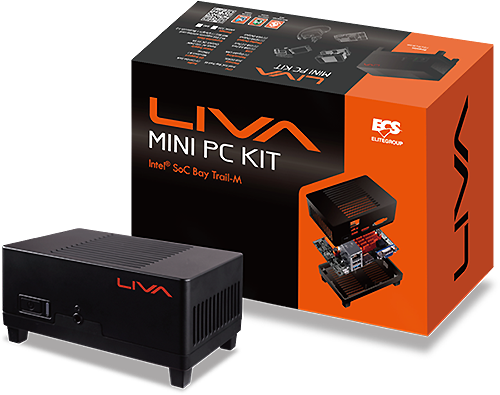 A computer nerd without a home office or "man-cave" is half a nerd. This is the exact predicament I am in. Without going into to much detail, my basement man-cave is out of commission for renovations. This means my test desktop, large monitor and computer desk are packed away for the time being. Thank God for the Surface Pro 3 -- it has enabled me to make any room my office, including the Starbucks I am in now.
However, not all people have a desire to be mobile. No, some without an office prefer to put a home computer in a small area of a kitchen or living room. This can be problematic however, as the desktop can be large and depending on the model, an eyesore. Even worse, the whirring of the fans may impede a desired silence for a movie or romantic dinner. Today, ECS announces a solution for geeks and nerds that are tight on space -- the LIVA mini-computer. At 118 x 70 x 56 mm and 190g, this thing is light and tiny.
"To achieve great performance with modern applications, LIVA supports the latest Intel Celeron Bay Trail-M SoC (System-on-a-Chip) dual-core processor operating at up to 2GHz in turbo mode. There's 2GB of fast, low-voltage DDR3L memory, which achieves power savings of 8 percent compared to old-fashioned DRAM", says ECS.
The manufacturer further explains, "connect your LIVA to the world via its Wi-Fi 802.11a/b/g/n and Bluetooth 4.0 Combo Card. There's also high-speed USB 3.0, Gigabit LAN and audio output, plus both HDMI and VGA outputs for dual-monitor applications and both Digital / Analog support. LIVA avoids the bottlenecks of slow hard disk storage with its integrated 32GB eMMC (embedded multi-media card)".
While this is hardly the most powerful computer, it is definitely capable of basic office work, web surfing and multimedia. Heck, since it is passively cooled, it may serve well as a silent HTPC. The LIVA kit may be a great option as a first-PC build for a child too, as they can learn about the components and see the internals -- it should make for a great lesson. Of course, while it will run Windows 8.1, it can surely run a Linux-powered operating system too.
Sadly, pricing and availability are not yet available, but all should be revealed soon. Are you interested in buying the LIVA? Tell me in the comments.