Capture, record, annotate and share your desktop with Grabilla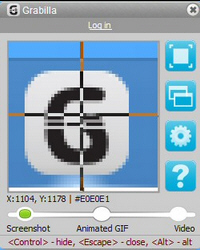 When it comes to capturing the Windows desktop, you've no shortage of options, and we've covered many of them here: SnagIt, QIP Shot, HotShots and more.
Of course there's always room for another, and Grabilla is an especially interesting example, as the program comes packed with unusual extras to help it stand out from the crowd.
This isn't just another Windows-only tool, for instance: it's also available for Android and Mac. Each version can upload its captures to the same free Grabilla space, which means it's accessible wherever you are. And once at the site, you're able to annotate the capture, get links to share it, password-protect it, embed the screenshot or post it in forums, and there's even a one-click option to create a short URL and QR code.
We tried the Windows edition, and it offered a good range of capture types: freehand rectangle, active window and full screen, and the ability to capture images, animated GIFs and videos.
There are some neat extras, too. It's often difficult to define a freehand rectangle, but here there's a zoomed view around your mouse cursor, an X/ Y coordinate display, even a hex value for the color under the mouse cursor, very useful when you need precise positioning.
Exploring the Grabilla website reveals even more options. A web capture bookmarklet enables you to save web pages from Chrome or Firefox. Grabilla can be used to share other files, not just captures, within a fairly strict size limit (20MB, 300MB for videos). A History page keeps track of what you're doing, too, although to access this from anywhere you must sign in with a Facebook, Google+, Twitter, Yahoo or LinkedIn account. (If that doesn't appeal, no problem – most of the site's features work just fine as an anonymous user.)
There are also problems. Grabilla's Windows client had some significant issues, at least on our test PC. It wouldn't minimize to our system tray. The "Hide" key didn't hide it. On one system, it refused to record videos at all (presumably some local issue as on another it worked fine).
The program's plus points win out, though -- configurability, online annotations, capture sharing features, cross-platform -- and on balance Grabilla gets a qualified thumbs up from us.