Quickly remap your PC drives with Drive Letter Changer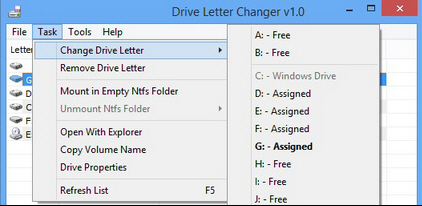 Utilities developer Sordum has released Drive Letter Changer, a portable tool which allows you to reassign PC drive letters in two or three clicks.
The program is small (a single executable under 400KB) and has a very basic interface: mostly just a table with a list of your current drive letters, their labels and names.
Click a drive you'd like to reassign, and a context menu appears immediately. Hovering your mouse over "Change drive letter" displays a list of possible drive letters, and all you have to do is click one.
Error handling is mostly good. You're not allowed to change your system drive letter. And if you try to assign one local drive to another, which is currently in use, then you're not told that's impossible (which NirSoft's similar DriveLetterView does); instead the drives are swapped.
One notable problem is that Drive Letter Changer doesn't appear to recognise disconnected network drives. Their drive letters are displayed as "free" in the program, and you can assign drives there, but they may not be accessible (fortunately you can just reassign them elsewhere to get them back). DriveLetterView scores here as it understands Explorer is still mapping the drive and won't allow you to use it.
Drive Letter Changer also supports the creation of volume mount points, where essentially an empty folder on an NTFS drive can point to another volume. If you'd like an easier way to access your drive E, for example, you might create a desktop folder SpareDrive, select E: in Drive Letter Changer, click "Mount in empty NTFS drive" and select Desktop\SpareDrive. Then, whenever you browse to SpareDrive, you'll see and be able to access all your drive E: files and folders. (An "Unmount" option turns this mapping off when you're done.)
There are also a very few small extras. Click a drive and you'll find convenient options to open it in Explorer, or view its properties. Experts may also appreciate a Tools menu with options to launch the Disk Management applet, run the mountvol.exe command or restart Windows Explorer.
Drive Letter Changer has its problems, then, particularly with network shares (check out DriveLetterView if that's a deal breaker for you). The program does make it quick and easy to change drives, though, and the volume mount point support is also welcome, so on balance it's still worth checking out.