Twitter for Windows Phone finally gets some attention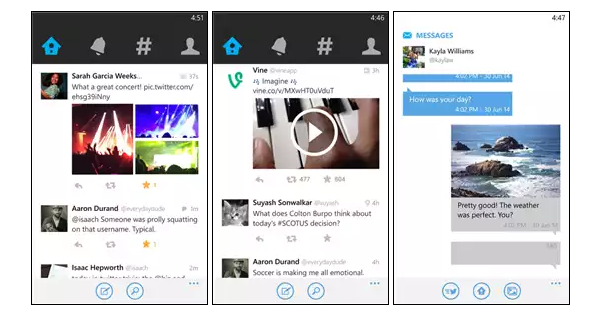 Twitter may have an official Windows Phone app, but the offering is sorely lagging behind its Android and iOS counterparts in the features department. That is because the updates come only a couple of times per year, and, even then, they fail to bring the latest goodies on the platform.
Luckily for those who are willing to put up with the offering, Twitter has finally released a new update for its Windows Phone app, the first one to come in 2014. And to show just how much it cares about the platform and its users, Twitter has not even announced the update on its blog (but, Microsoft did).
By contrast, the Android and iOS apps receive many more updates, even if just to squash a couple of bugs. To give you an idea, on my Google Nexus 7 rarely a week goes by without seeing a Twitter app update pop up on Google Play.
Still, an update is better than none at all. The latest Twitter Windows Phone iteration brings new features, designed to make photo sharing and uploading better and improve interactions and engagement.
Multiple photos can be uploaded to a tweet, users can tag friends in them, and add images in direct messages. Previews are shown inline now (this also works with Vines and "select" content). Also, users can favorite, follow, reply and retweet right from the feed (timeline).
Twitter is available to download from Windows Phone Store.