Vysk QS1 phone case brings encrypted calls to paranoid Samsung and Apple users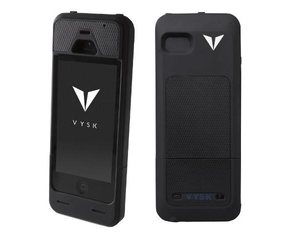 Phones hit the headlines for lots of reasons -- the biggest, the most expensive, the shiniest, or just the newest. We live in times in which security and privacy are major concerns for people in all walks of life. The activities of the NSA, as revealed by Edward Snowden, served only to heighten paranoia -- the prospect of having one's phone calls and text messages intercepted is something that fills few people with joy. Enter Vysk communicastions' Vysk QS1 phone case which can be used with an iPhone 5 or 5s, and a Samsung Galaxy S5 or S4. The selling point here is that it's not just your phone that's protected, but also your privacy.
The privacy features come in mechanical and software forms. On the mechanical front there are "shutters" that can be used to obscure your phone's front and rear cameras, and there's also a jamming system for microphones. This is described by Vysk as "Lockdown Mode", but you can take things a step further. For $9.95 you can subscribe to "Private Call Mode". This introduces encryption to your texts and phone calls, with an onboard processor taking care of encryption on the fly and sent via the Vysk encrypted network. As Vysk puts it: "No one -- not even Vysk -- will know the identity of the caller or the recipient. No data is collected -- no phone numbers, call times or content - so there is no data to record. Because nothing is recorded, nothing is at risk."
An app is available for iOS and Android, and protected calls can be made to non-Vysk users. Random, untraceable numbers are generated when an encrypted call is placed, and there are other options like remote wipe, self-destruction messages, and a separate, secure dialer. Perfect for fans of the tinfoil hat.
Recently we wrote about the results of a survey that showed 88 percent of Britons are under the impression their phones are being tapped. The fact that the survey was sponsored by Silent Circle, the security outfit behind the Blackphone and Silent Circle Mobile app which allows for encrypted phone calls and messaging, might suggest a degree of bias, but it's fair to say that there is more of an air of suspicion lingering about at the moment. Vysk's marketing certainly plays on the fear the NSA has brought to the fore -- "in a world where everyone is trying to listen in…" sounds rather like a tagline from a bad movie -- but the case does address concerns that many people have, as well as businesses.
Pre-orders are open now -- if you don't mind stumping up $229 -- and the cases are expected to ship in the fourth quarter of the year.
So… what do you think? Is this a step too far, or is this the perfect accessory for these heavily surveilled times?