What don't I understand about Xbox Music?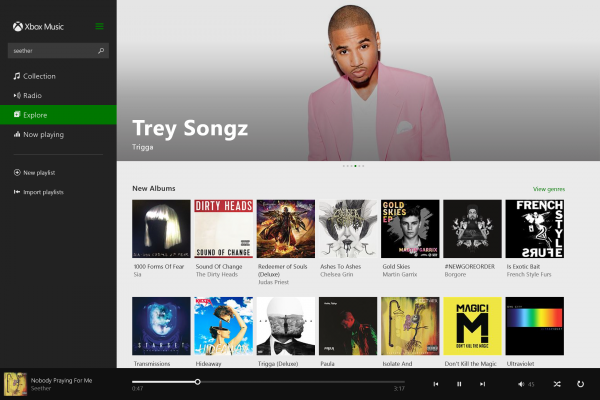 Seventh in a series. I ask because the user experience can't be this bad. Can it?
My "Microsoft All-In" experiment continues, and on Day 10 I must finally gripe about Xbox Music, which experience on Windows Phone 8 is pretty good, while the desktop app really sucks. I've got Pass, which should be as much about music discovery as streaming. I see some of both, but nowhere as much as core competing services, on Nokia Lumia Icon, while Surface Pro 3 disappoints. If I'm missing something, please correct my perception and also assist anyone considering Xbox Music.
Apple and Google offer excellent music discovery. Their stores are chock full of curated content, while online storage of your music gives anytime, anywhere access with suggestions based on listening habits. Microsoft offers excellent selection, and that includes the vast streaming library, but no online storage and on the desktop scant selection of curated content -- that I can easily find. While Windows Phone's app is better, there is still too much work involved finding stuff.
I also don't see much syncing, if any, between the Windows mobile and desktop apps. Songs streamed on one device should show up on the other, so that listening can continue. Icon and Surface are both connected to the same Microsoft account. If there is supposed to be sync synergy, I don't see it.
This and other idiosyncrasies show where "desktop app thinking" keeps the company from rising to the cloud. For example, on the phone the presumption is that you will listen to tracks stored on the device. Otherwise, cloud streaming would be the first option presented to an Xbox Music Pass subscriber like me. Instead, I must go through several screens to get to the store and manually search for songs.
Read more of Joe Wilcox's "Microsoft All-In" series
"Blah" is my word for desktop app. I am a huge fan of simple, clutter-free UIs. But the Windows 8.1 app makes Xbox Pass look like a ghost town. Add some cobwebs, the picture is perfect. Things do look better when your own locally stored songs appear, but my collection is 250GB and doesn't fit on the hard drive. There the cloud helps.
Where the service sings --- and you can disagree -- is the audio fidelity. Streaming sounds great, and to my aged ears better than any competing service, which in my experience includes AmazonMP3, Beats, Google Music, iTunes, Pandora, Rdio, and Spotify, among others. The sound is rich, with great range of lows and highs, while delivering excellent sound stage either to my Harmon Kardon Soundsticks III or Sony MDR-1BT Bluetooth headphones from either Icon or Surface Pro 3.
More significantly, from either device, bass is balanced rather than pumped, and that's as much about music encoding as app playback. For streaming anyway. Stuff I purchased from iTunes still is too bassy even using Microsoft's app, but nowhere as heavy and better balanced.
What I hear, I really like. What I see, I don't. And you?

Update: I bit the bullet, and attached the USB drive with my music to Surface Pro 3 and let the Xbox app update my collection and match to the cloud. I don't want to keep the drive attached, and figured that, like iTunes, my music could stream to any device.
Uh-oh. Click the above image to enlarge. Xbox Music couldn't even match half the songs -- just 6,845 out of 14,570. ITunes provides access to nearly everything. I dunno which service has the largest library, but it's clear Apple licensees more for streaming -- or is about something else? From Google, because your music is stored in the cloud, everything is available to stream.