Ashampoo Photo Commander 12 released, extends cloud storage support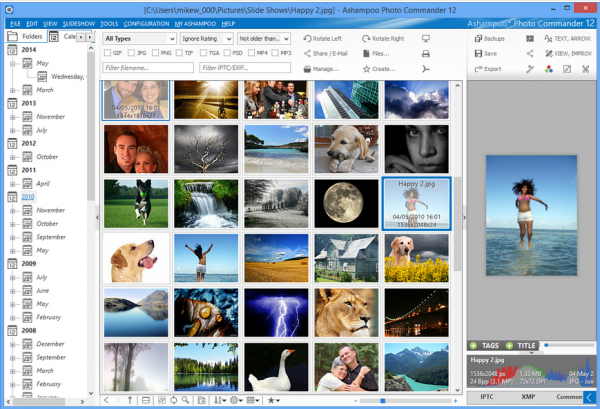 Ashampoo has unveiled Ashampoo Photo Commander 12 for Windows, a major update for its comprehensive photo management, editing and sharing tool.
Smarter access to cloud services means the program now offers 1-click copy-move operations to Dropbox, Google Drive and OneDrive.
You're able to send selected photos via webmail, directly from the Photo Commander Browser (Google Mail, Yahoo Mail and Mail.ru are supported), and as before you can upload your photos to Facebook, YouTube and Picasa.
Enhanced file format includes the ability to read-write PSD and WEBP files, open multi-page PDFs, and work with many more RAW variants.
A much-improved vector editor now supports curved arrows, curved and multi-point lines, custom outline styles, gradient fills, smarter access to object styles and far more intuitive editing controls.
A Color Accent effect allows you to click on one color and have that remain, while everything else is greyed out. Manual white balance similarly alters the white balance of your photo based on a single click, while you're now able to select and cut out an object from a photo, make parts of an image transparent, or exchange transparent areas with another photo.
Elsewhere, you get import synchronization (the program remembers photos it has imported before), completely redesigned Wallpaper and Slideshow wizards, smarter use of hardware acceleration, more greeting card designs, and a redesigned, faster image browser with multiple monitor support.
Ashampoo Photo Commander 12 is priced at $49.99 for new users, $19.99 for owners of a previous version. It runs on every version of Windows from XP up, and an unrestricted 40 day trial build is available now.