120 Sports brings free sports programming to Android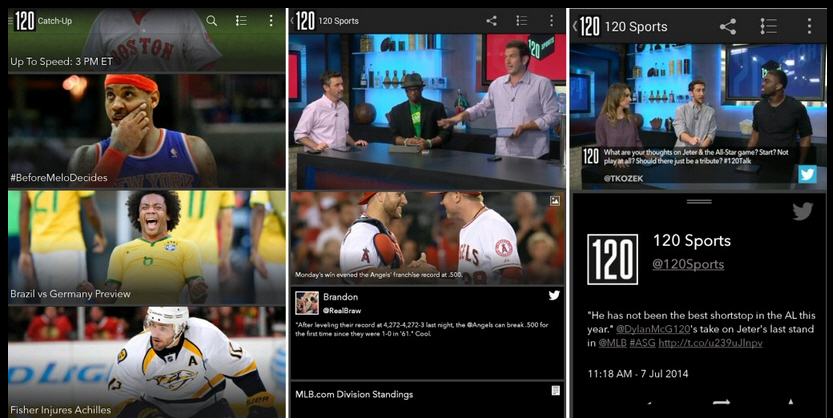 Sports programming network 120 Sports has announced that its free app is now available in the Google Play store.
Already available for iOS, the (US-only) 120 Sports app offers what the company calls "hosted programming delivering timely narratives of the stories across every sport, featuring breaking news, video highlights and live look-ins, all integrated with social conversation, expert analysis and a new production style focused on the digital generation".
Essentially it's a configurable sports news show. Launch the app and you're presented with thumbnails and headlines representing the latest stories, in chronological order. Tap an image to watch a two minute report on the topic, with video footage, a studio discussion, and maybe some related tweets.
Alternatively, just search for whatever sport, event or athlete you're following, and you can receive notifications whenever a matching story appears.
There's much more content than you'd expect, because 120 Sports is a serious network, with some big players: Time Inc./Sports Illustrated, Chicago-based digital sports media company Silver Chalice, MLB.com, the NHL, the PGA Tour, NBA, NASCAR and more.
It's not all good news. 120 Sports is much more about video coverage than text, so you can't catch up on the news by just glancing at a few lead paragraphs. There are some big banner ads, and it seems to be only available in the US (although if you're elsewhere in the world, 120sports.com may be visible from a desktop).
The app is free, however, with a lot of content, and if you're a sports fan then it's definitely worth a try.