Google Chrome tweaks notification popups, adds crash recovery browser bubble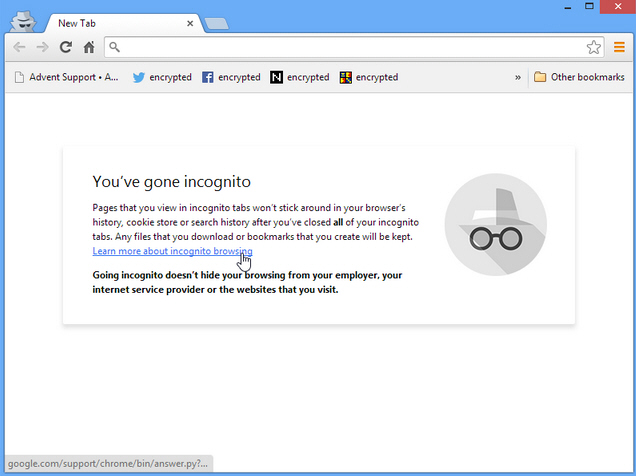 Google has unveiled Chrome 36 FINAL for Windows, Mac and Linux, with Chrome for Android 36 rolling out shortly. The desktop update adds a couple of user interface tweaks under the label "rich notifications improvements".
It also updates the incognito browsing page, adds a browser crash recovery bubble that could help prevent data loss and extends the Chrome App Launcher to Linux, plus adds various under-the-hood tweaks.
Improvements to the rich notifications pop-up messages should deliver clearer, less cluttered pop-ups thanks to redesigned icons
Another visual change can be seen when opening a new page in Incognito mode or when logged on as a guest. Aside from the redesign, the text has been subtly altered, removing the reference to remaining visible to "governments and other sophisticated attackers". Also removed is the warning that all extensions are disabled in incognito mode.
The new browser crash recovery bubble is designed to alert users when a plug-in is crashing or about to crash, giving them an opportunity to save any work before restarting the browser.
The new Chrome App Launcher on Linux builds follows on from the App Launcher's release on Mac (late last year) and Windows (earlier this year) platforms.
A number of developer features to have made it across from the Beta build, including support for importing HTML documents into other documents, plus both element.animate() and Object.observe() objects.
As always, Chrome 36 FINAL will -- over the next few days -- be joined by Chrome for Android 36. In announcing its release, Google has revealed a number of minor changes: Doodles return to the New Tab page, while non-mobile optimized sites should see improved text rendering.
Both updates are then rounded off with the usual selection of bug fixes, security fixes (26 in total on the desktop platform) and various performance improvements.
Google Chrome 36 FINAL is available now as a free download for supported builds of Windows, Mac and Linux, while Chrome for Android 36 should start rolling out over the next couple of days.