Tweetium arrives on Windows Phone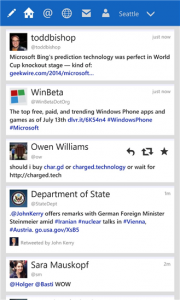 The official Twitter app may be good enough for casual Windows Phone use, but only a third-party client has all the right features for the social network's power users. While there already are a couple of good picks available in Store, the arrival of Tweetium, best known as one of the most fully-featured Twitter clients for Windows 8.x, just beefed-up the selection.
The developer, B-side Software, has released Tweetium as a beta. It is meant to be tested just by "select" existing "customers", according to its Store description, but we can still take a look.
Tweetium is already touted as a powerful, top Twitter client, with its developer claiming it is "fast", "slick" and "designed with ample feedback from serious Twitter users, with the goal of helping you get the most out of Twitter on Windows desktops, laptops, and tablets". Judging by its array of controls, readily available at the top of the app's UI, the last claim sure seems accurate.
B-side Software says Tweetium will be available in two versions for Windows Phone users. The cheapest one will provide access to a single Twitter account, but is pretty low on features (and, as far as I can tell, not yet available).
If you want things like support for multiple accounts and push notifications, you will have to buy the Pro version (it also adds TweetMarket sync and built-in support for news reading through Newseen), which is in line with how other third-party clients work.
Tweetium is available to download from Windows Phone Store. It is published as a paid universal app, costing $2.99.