Technology helps college kids communicate and learn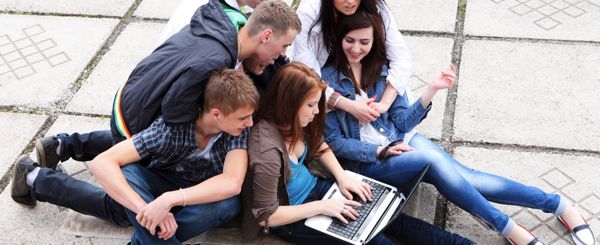 Going away to college is a milestone for both parents and their offspring and technology giant Dell has released the results of a survey showing how families buy technology for this key time.
The survey was conducted among more than 1,000 respondents across the US, split evenly between students of 16-19 planning to attend a two to four year college course, and parents.
The results show a shared preference among parents and students for a versatile device that adapts easily to both work and play, along with a desire to have sole ownership over it. Almost two-thirds of parents (64 percent) and three-quarters of students (75 percent) prefer to have one device that can take them through all aspects of their life, whether work or school. And there's a strong desire to have a device which is solely their own -- siblings and parents are cautioned to keep their hands off a student's tech, and vice versa. More than three-quarters of parents (78 percent) and students (77 percent) say they rarely, if ever, share their devices with each other.
The survey also reveals a shift in communication habits when children are away at college, showing that parents and offspring speak less but communicate more thanks to emails and texts. 84 percent of parents and 90 percent of students say that it's easy to stay connected thanks to technology.
There's strong agreement that technology helps learning too. Devices allow learning to continue outside the classroom, over half of the students surveyed say that they study on-the-go, wherever they can grab a few minutes, and 77 percent say they have gone online after class to source more information on a subject.
"Dell has always been about helping customers do more," says Allison Dew, VP of Global Marketing at Dell. "The high school and college years are the perfect time to discover new interests and let curiosity be your guide while exploring these worlds. We're finding that students armed with the proper technology for school will carry their ideas outside the classroom, getting more from both their studies and life experiences. It's not just about what they memorize when a professor is lecturing; it's about what they can do with these new learnings".
Buying preferences came under scrutiny too. Around 60 percent of students will be buying a new laptop or tablet before the school year starts and over half say they have most influence on the purchase, even if the parents are picking up the tab. There's a big difference in where people go for advice, however, with students likely to look at social media whilst parents rely on reviews.
You can take a closer look at parent and student buying habits in infographic form below.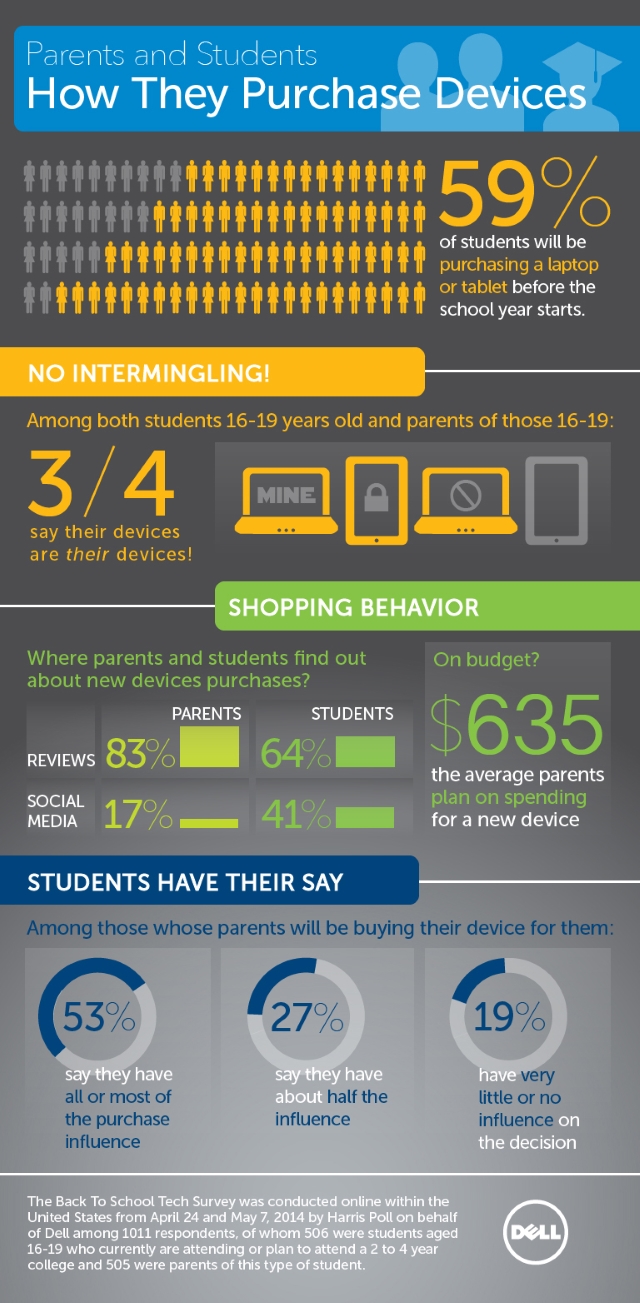 Image Credit: Petrenko Andriy / Shutterstock