The technology I'm using this summer [Wayne]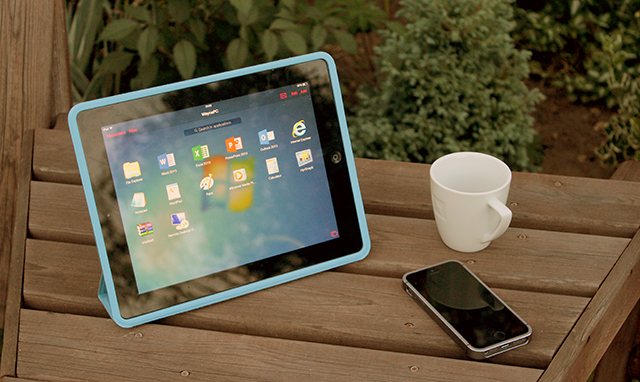 My colleague Alan Buckingham has already detailed the different hardware he switches to when the weather warms up. He makes his changes to escape his hot office environment, but I have a rather different reason for swapping devices in the summer.
I work in a basement office. It's a very nice basement office -- it used to be a call center in the days before I moved in -- but the temperature rarely changes throughout the year down there and the lack of windows means the different seasons have very little impact on me. I'm unaware of when it's snowing in winter, or more importantly, when it's gloriously sunny in summer. So on days when I know the weather is nice, I move outside, so I don't miss the sunshine, and get a welcome (and much needed) dose of vitamin D.
The Computer
I rely on my iPad to get work done. The iPad is fantastic for many things. It has a brilliant app selection, it's great for watching movies, and viewing images. But my productivity really suffers when I switch to working on it. My Windows 8.1 PC is an absolute super-fast beast with two very large monitors. Going from that to working on a single, much, much smaller screen means I end up being far less productive. Things would likely be (slightly) better if I swapped to a Surface Pro 3, but for the moment it's the iPad I turn to when heading outdoors.
To make using it more manageable, I rely on Parallels Access, so I can remote access my PC from outdoors. It allows me to use all the software I would normally, and I don't have to worry about moving copies of files about or working in the cloud. Yes, there are other remote access apps available, but Parallels Access is in a league of its own as far as I'm concerned.
To ensure I have a solid internet connection, I have several TP-Link 300Mbps Universal Wi-Fi Range Extenders set up at regular intervals running from the router to my favored spot outdoors.
Entertainment
Unlike Alan, I'm not a fan of background music when I'm working and prefer to listen to the sound of birds chirping when outdoors. Working on an iPad means I have the best games at hand when it's time for a break and I also take my Kindle Paperwhite out occasionally. Sure, I could read books on my iPad, but the experience is horrible compared to reading on a dedicated e-ink device. I'm in the process of writing another novel, and I actually copy book drafts onto the device, so I can read it there.
Other items
My iPhone goes with me everywhere, and makes the perfect companion to the iPad. I also run Parallels Access on it occasionally, and I have all the apps installed I need to save me switching between windows on the iPad. The phone alerts me to everything from news updates to incoming emails across all my different accounts, so I don't need to stop what I'm doing to check for new messages. It functions, essentially, as the second screen I miss when outdoors.
If I need to do some serious, superfast writing -- a large article on a tight deadline or a book chapter -- I occasionally take out my old (frequently upgraded) Windows 7 Advent laptop. As much as I love the convenience of a tablet, you can't beat typing on a proper full-size keyboard.
Photo credit: Wayne Williams