Printworks gives Mac users a user-friendly, yet surprisingly powerful, design tool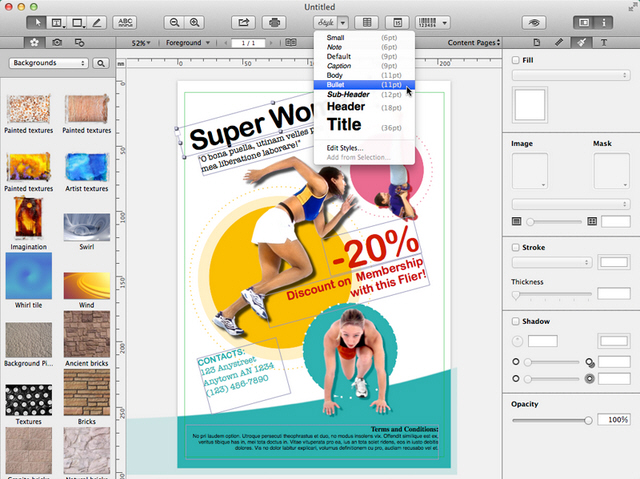 Belight Software has released Printworks 1.0 for Mac. Launching with a discounted price of $29.99 (normally $49.99), the app is a fully fledged desktop publishing and design tool aimed at the home and small business market.
The app's main appeal is that it manages to wrap up all the core functionality required for designing a wide range of documents -- including flyers, newsletters and greetings cards -- in a user interface that's simple to grasp and places all the key tools at the user's fingertips.
Once fired up, users can create a document from scratch or choose from one of the many templates on offer -- over 400 are provided, broken down into manageable sections. Each template is fully customizable and showcase the app's capabilities well.
Printworks also offers four video tutorials that reveal how simple the app is to use while giving complete beginners an insight into how it -- and desktop publishing in general -- work.
The user interface -- which is 100 percent Retina-ready -- is split into three panes: the document sits in the middle pane, with available media -- images, clipart and basic shapes -- accessible from the left, and an Inspector on the right.
The Inspector provides four tabs: Page Setup covers the document's general dimensions, while Geometry works with the currently selected object. Similarly, the Appearance tab is used to color and fill selected objects, while Text Formatting works with selected text.
The toolbar provides buttons for quickly inserting barcodes, tables and even a calendar, plus a handy paragraph style switcher and clickable preview button for viewing your document as it should appear when printed. There are also buttons for creating headings as well as accessing the usual line, box and select tools.
Having put these key tools front and center, Printworks also hides some useful tools behind the scenes -- double-click an image, for example, and a powerful dialog for editing and masking the image appears.
Printworks is an excellent demonstration of how to launch a desktop publishing tool at the lower end of the market, bringing together all the tools required for creating striking documents quickly, easily and without being engulfed in unhelpful technical jargon. Even relatively inexperienced users should quickly pick up how the app works, making it easy to migrate to from other DTP programs.
Printworks 1.0 is available now for $49.99 through the App Store. It requires Macs running OS X 10.8 (Mountain Lion) or later. Over 1,000 clipart images are bundled with the software, while 40,000 more can be unlocked through an in-app purchase for an additional $9.99.