Pale Moon resolves rendering performance issues, among other tweaks and fixes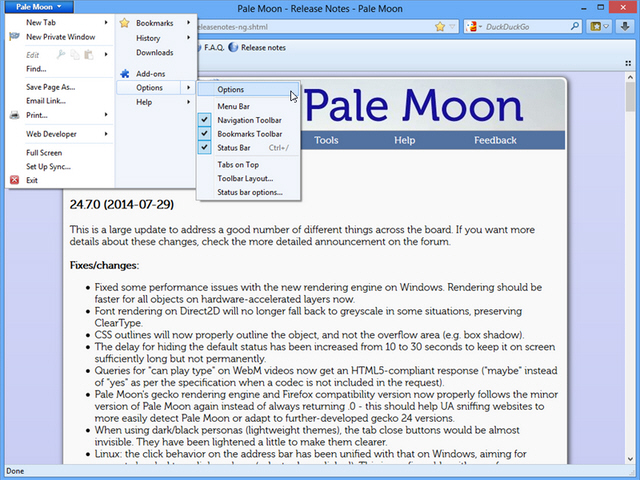 Moonchild Productions has released a minor update to its Firefox browser variant for Windows with the release of Pale Moon 24.7 and Pale Moon x64 24.7.
Version 24.7 is primarily a bug fix release, and also includes the latest security fixes recently incorporated into the main Firefox build.
As the version number implies, Pale Moon is no longer simply an optimized build of the latest Firefox release, but a completely separate fork. The version number (24) helps provide clarity about which Firefox extensions should also work with the browser.
Version 24.7 opens by fixing some performance issues with the browser's new rendering engine, with the promise that it should be faster across all layers going forward.
Font rendering on Direct2D has also been tweaked so it will no longer fall back to greyscale in certain situations, preserving ClearType.
CSS outlines now properly outline objects rather than their overflow area (such as box shadows), and the delay for hiding the default status has been extended from 10 to 30 seconds. The dark black persona themes have also been tweaked to make the tab close buttons lighter and more visible.
Preferences are no longer displayed in a separate tab, but now appear once again in a separate dialog box. Moonchild explains the tab feature was both incomplete and – as anyone who has opened the same dialog in recent builds of Firefox -- redundant. Domain highlighting in the Address Bar should now also work consistently.
Users also gain full control over updating -- nothing is now downloaded directly when the user opts to check for updates via the About box.
The update also contains A detailed list of fixes and changes, which also include a number of Android-specific updates as Moonchild readies an Android build of Pale Moon (click here to access the public beta), can be found at the Pale Moon user forum.
Pale Moon 24.7, Pale Moon x64 24.7, Pale Moon Portable 24.7 and Pale Moon Portable x64 24.7 are all available now as open source, free downloads for PCs running Windows XP or later.