It is game over for Windows Phone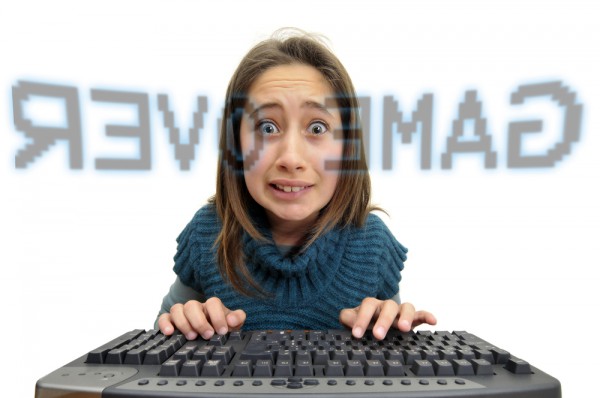 Microsoft, it is time to reconsider your Windows Phone plans. The tiled smartphone operating system's market share came in at a tiny 2.7 percent in Q2 2014, dropping from the 3.8 percent it claimed in the same period of last year. As a result, Windows Phone saw a 28.94 percent decrease year-over-year in market share, caused by low shipments of only 8.0 million units in the second quarter of the year, 0.9 million units less than in Q2 2013 when its shipments were at the 8.9 million units mark.
The data is from a new report issued by research firm Strategy Analytics, which adds "Windows Phone continued to struggle in the United States and China", the first two largest smartphone markets worldwide. There, Kantar Worldpanel ComTech places the platform at 3.8 percent and 0.9 percent market share, respectively. That is lower than in other markets such as Australia, where Windows Phone was able to reach 5.3 percent market in Q2 2014, as well as some parts of Europe.
Windows Phone was not the only smartphone OS to post market share losses in Q2 2014, as iOS also dropped to 11.9 percent from 13.4 percent and BlackBerry followed suit with a decrease in market share to 0.6 percent from 2.4 percent (in the same respective quarters). In Q2 2014, Apple shipped 35.2 million iPhones, 4 million units more than in Q2 2013. BlackBerry, in contrast, shipped just 1.9 million units, which is 3.8 million units less than in the same period of last year when the Canadian maker shipped 5.7 million units.
Practically, Windows Phone is in the same boat as BlackBerry, as these are the only two platforms which registered losses in both market share and unit shipments in Q2 2014 compared to Q2 2013. Apple's iPhones grew in shipments, but were unable to keep pace with Android smartphones. The open-source OS' market share rose to 84.6 percent in Q2 2014, up from 80.2 percent in the same period of last year. Its shipments also increased to 249.6 million units, up from 186.8 million units.
"Android's domination of global smartphone shipments reached a new peak in Q2 2014, with an impressive 85 percent of all smartphones now running Google's OS", says Strategy Analytics. "Android's gain came at the expense of every major rival platform. BlackBerry saw its global smartphone share tumble from 2 percent to 1 percent in the past year due to a weak line-up of BB10 devices. Apple iOS lost one point of share to Android because of its limited presence at the lower end of the smartphone market".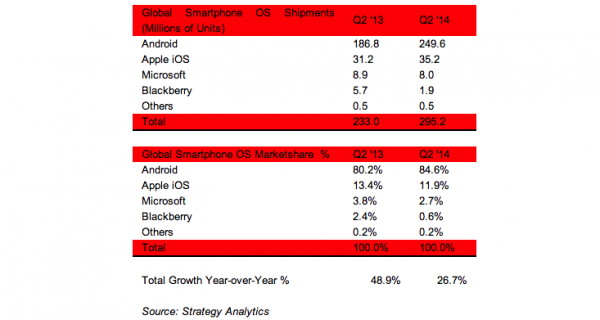 Photo credit: Luis Louro/Shutterstock