AOMEI OneKey Recovery allows you to recreate your PC's recovery partition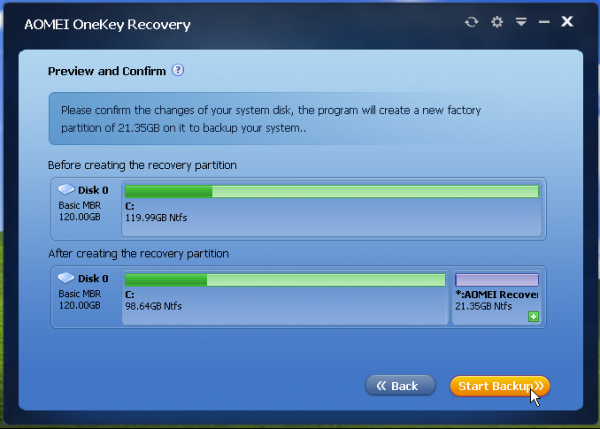 AOMEI Technology has shipped AOMEI OneKey Recovery, a brand new tool that allows Windows users to create a custom recovery partition on their PC. The tool is primarily designed for use on a system whose on recovery partition has been lost, but should work with any PC.
The app creates the recovery partition from the user's current setup, which means all existing programs and settings will be preserved.
The tool is basically taking a drive image of your main Windows partition, which means if data is stored on that partition it'll be saved too.
At the present time, OneKey Recovery can only be created on the same partition as Windows itself, which could be a deal-breaker if free space is at a premium. It also means that more mature Windows installations are likely to require a significant amount of free space compared to brand new ones -- basically you'll need as much free space as the current size of your C drive.
Assuming there is enough free space to create the partition, you'll next need to download and install the Windows Automated Installation Kit -- OneKey Recovery provides a link if it's missing, but at a 1.7GB download in ISO format for burning to disc or mounting as a virtual drive in Windows 8, it's a little clunky.
Nevertheless, once these hurdles are overcome, the program is intelligent, smart and relatively straightforward to use: a few clicks to select your target partition, confirm the changes and then the obligatory reboot into the AOMEI OneKey Recovery environment to perform the actual backup. And once that's complete, you have a recovery partition to lean on should the need arise -- just press [A] as your PC boots to access the recovery environment and restore your system (if Windows is working, you can also trigger the recovery process from AOMEI OneKey Recovery itself).
AOMEI OneKey Recovery is a clever idea, but it's a little restrictive in what it does, and because it's little more than a narrowly focused drive-imaging tool, you're probably best served by looking at something broader, like Macrium Reflect Free.
AOMEI OneKey Recovery 1.0.0 is available now as a freeware download for PCs running Windows XP or later. The Windows Automated Installation Kit is also a requirement.