ImBatch 3.0 adds Curves tool, image filtering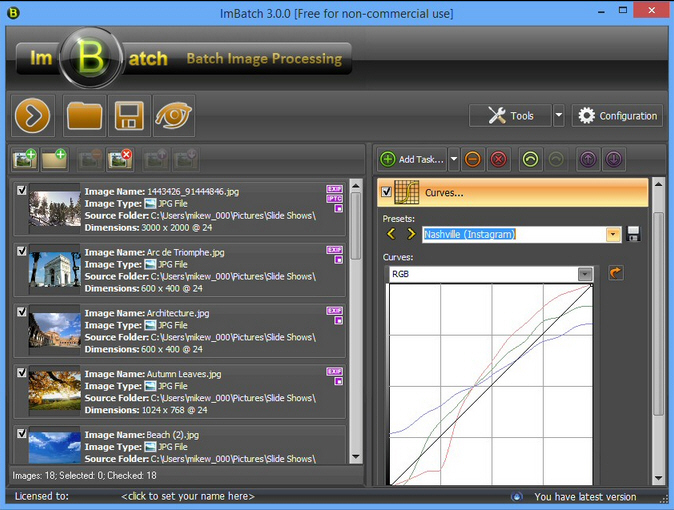 High Motion Software has unveiled ImBatch 3.0, an interesting update to its free-for-personal-use image batch processing tool.
The headline addition is the Curves task, a versatile and configurable way to adjust image colors.
The new tool includes various presets to do anything from lightening or darkening an image, to tweaking contrast and even reproducing common Instagram effects (Nashville, 1977, Amaro).
Or, as with the Curves tools in Photoshop and elsewhere, you can take full control by dragging control points to manipulate color channels.
The other new feature is a Filter task which lets you process only images which match particular conditions.
While this sounds simple enough, your filter can use more than 100+ functions -- with almost complete access to your EXIF and IPTC tags -- to define exactly what you want to do. You might have ImBatch process images differently based on their size, date, ISO setting, white balance, shutter speed, metering mode, aperture and more. (The official Help page has the details.)
The other changes are mostly in the background. High Motion reports that the Image Monitor (which automatically processes new images as they appear) has been rewritten from scratch, while there are "many minor bug fixes" elsewhere.
ImBatch 3.0 is available for Windows XP and later now. It's free for personal use, a commercial licence costs $29.95.