DAYU Disk Master Free: image backups and more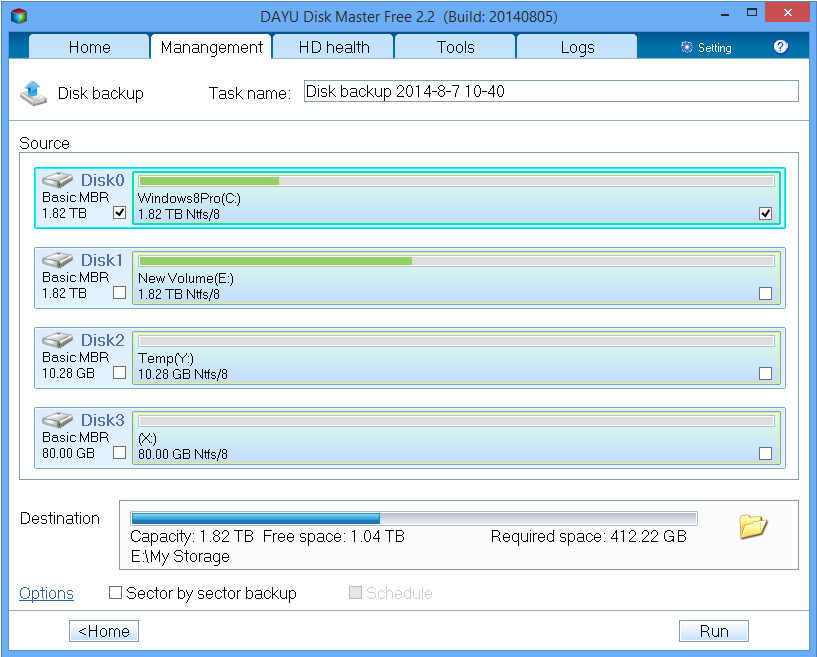 At first glance, DAYU Disk Master Free looks like many other simple image backup tools. Select a target drive, a destination, choose a few options (compression, splitting, priority, speed) and you can run a backup at a click. Restoration is possible from the program or a rescue disk, and there's a disk clone feature thrown in.
Browse the program's menus, though, and some relatively unusual bonus features help it stand out from the low-end competition.
These start with the "Pre-OS" feature, a bootable recovery environment created on your system drive. Turn this on (Tools > Enable Pre-OS) and "DAYU Disk Master" appears on the boot menu when your PC starts; if Windows won't launch then you can choose this and restore a backup, no need for any boot disk.
The Pre-OS environment could be useful even if you don't have a backup to hand, as it provides a command prompt which you can use to access your system drive and perhaps fix any boot problems.
An "HD Health" tab displays SMART data for every compatible drive, maybe helping you spot hardware issues before they become critical.
There's support for creating a RAM disk. By default this points your system folders to the drive, maybe helping to improve system performance.
The program can even create virtual disks, files which are mounted as virtual drives when you need them, and removed when you don't.
There's nothing too surprising about any of this, and as its the free version of a commercial product, the program has several restrictions. There's no GPT/ UEFI boot support, no backup scheduling, no virtual disk password protection.
DAYU Disk Master Free is fine for simple backup tasks, though, and comes with some worthwhile extras. Go take a look.