How much is your internet being censored? Point and click guide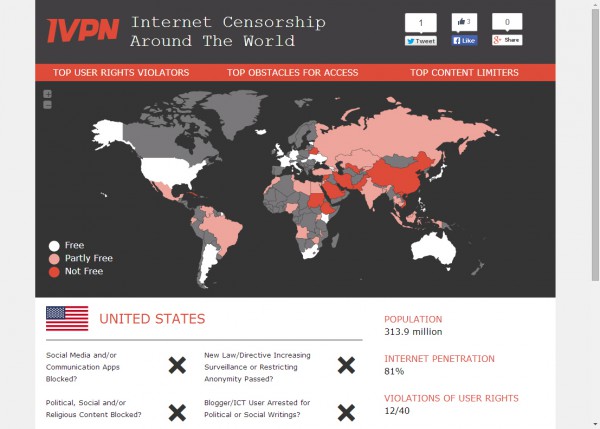 The issue of internet freedom is seldom far from the news at the moment, but exactly how much are the governments in different countries restricting what their web users do?
Online privacy service IVPN has produced an interactive map showing levels of internet censorship around the world. You can simply click on a country to see how it rates.
The map has been compiled using data from the Freedom on the Net 2013 report by independent watchdog Freedom House.
Each country is assigned a freedom score out of 100 based on three different measures: limits placed on online content, obstacles to internet access, and violations of user rights. Based on the score the map grades each country as free, partly free or not free. Countries shown in grey were not included in the report.
Click on a country to see which if any content is being blocked, whether there are any laws restricting anonymity or allowing for increased surveillance, and whether bloggers have been arrested for making political or social comments.
The site also provides a chart showing which nations are the top content limiters, top user rights violators and which countries are placing the most obstacles in the way of web access.
Explore the interactive map here.