Make notes, to-do lists or outlines with CherryTree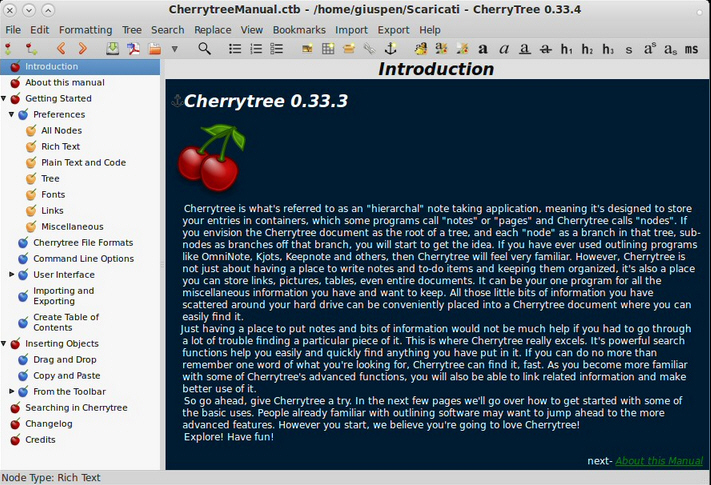 CherryTree is a versatile free tool for brainstorming, planning, creating to-do lists, managing tasks, and generally keeping yourself organized.
This works much like many similar programs. You'll create a few "nodes" -- folders on a tree -- to structure your ideas. Each node is effectively a separate page where you can enter whatever text notes, links, images, tables, lists, files and more.
CherryTree's capable rich text editor provides full control over colors, fonts and formatting in general. There's a spell checker, too, although for some reason ours was turned off by default (go to Edit > Preferences > Rich Text if you have a similar problem).
Developers will also appreciate CherryTree's syntax highlighting support for 70+ popular languages (it's an ideal tool for maintaining code snippets).
There are various ways to keep your data organized. As your tree grows, important nodes may be bookmarked or tagged to help you find them later. You can also drag and drop nodes to rearrange them, and a built-in Search tool -- with regular expression support -- quickly tracks down what you need.
By default CherryTree neatly saves you work as a single XML file or SQLite database, optionally password-protecting it to maintain your privacy.
The program also exports its documents to PDF, HTML or plain text, and is able to import data from other note-taking apps: EssentialPIM, Gnote, KeepNote, Mempad, TreePad, Zim and more.
The interface isn't always ideal. Most options have been crammed into the menus, making them rather lengthy and occasionally difficult to manage. Click Edit > Insert Special Character, for example, and instead of seeing a dialog box of symbols, we had to scroll through a menu 1.5x the height of the screen.
We soon mastered the basics, though, and overall CherryTree proved a well-designed note-taking program which can be used for many different purposes.