Flappy Bird creator returns with tricky Swing Copters game -- watch out for rip-offs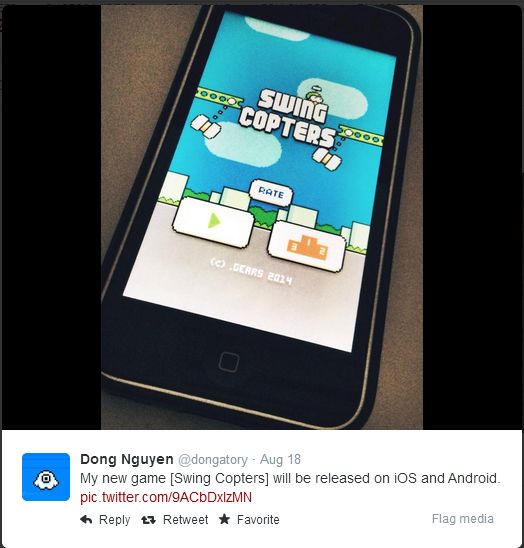 The pressure got to him last time, so how will developer Dong Nguyen cope if his new mobile game Swing Copters takes off?
Flappy Bird was downloaded more than 50 million times and was the number one free game in the Apple App Store and Google Play Store charts before Nguyen pulled it in early 2014 sparking petitions, suicide hoax stories and death threats.
Vietnam-based creator Dong Nguyen said at the time that he removed Flappy Bird because he couldn't take the attention and it had ruined his 'simple life'.
His new game Swing Copters is not dissimilar to Flappy Bird with its single-tap gameplay but this time it involves flying a little guy with a propeller on his head vertically through a series of swinging hammers. Like its predecessor it is irritating, frustrating, difficult and totally addictive.
Its tagline 'Flying with a propeller hat is not as easy as it looks' is rather accurate, although I am pleased to say I have finally scored a single point... only an hour or so after downloading it.
Swing Copters has received mixed reviews so far, ranging from a 5-star-approving "If you're up for a challenge then this game is for you" to a lowly 1-star dismissive review of "This app would be good if it wasn't so hard. The Dev has tried too hard to enhance the impossibility of Flappy Bird and it completely ruins the game".
There have also been a number of complaints from players that the game won't install properly and frequently crashes.
Hundreds of clones of  Swing Copters have already appeared online within hours after the game was announced. Nguyen's Swing Copters is available in the Apple App Store and Google Play Store from GEARS Studio. Good luck....