Satechi announces the BT Wireless Smart Keyboard for Windows and OS X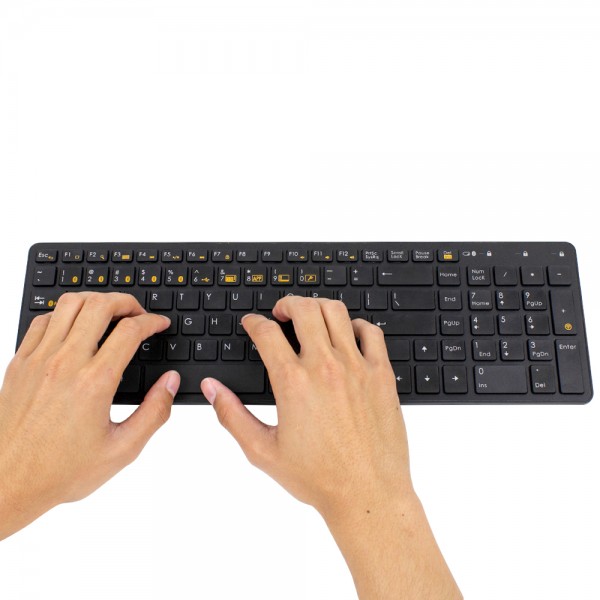 I am gong to let you in on a secret -- I love the Apple Wired Keyboard. When I say "love", I mean it; if legally possible, I would marry it. Whether I am on Linux, Windows or OS X (Hackintosh), it is the keyboard of my choosing. Why? Build quality and the speed at which it lets me type. The effort needed to press the keys is very minimal and the height of the keys allows me to move my fingers quickly. The problem is, it stands out and looks ugly on my desk. You see, my desktop, monitor and mouse are black, but then Apple's product is an angelic white that is out of place and simply doesn't look cool.
Unfortunately, I do not anticipate the fruit-logo company producing a black variant any time soon. Luckily, Satechi announces a new keyboard that may be destined for my desk -- the unimaginatively named BT Wireless Smart Keyboard. It looks a lot like Apple's keyboard and comes in both black and white. While the "BT" stands for Bluetooth, it is not a wireless-only affair. You see, it has a USB port and can double as a wired keyboard too!
"The Satechi BT Wireless Smart Keyboard is the ideal solution for any Mac or PC user in need of an organized, tangle-free workspace. The sleek and extremely thin (0.7" thick) keyboard works via Bluetooth, meaning users have an extra USB port for other devices and can conveniently use the keyboard from up to 33 feet away. The BT Wireless Smart Keyboard delivers a comfortable typing experience and features whisper-quite keys, reducing distractions and creating a more efficient workspace. The lightweight design of the keyboard also gives users the freedom to take it with them on the go to use with any mobile device", says Satechi.
The manufacturer further explains, "for added functionality, the BT Wireless Smart Keyboard features multimedia keys to provide instant access to control video and audio content, including play/pause, volume, forward/backtrack and more. The keys can also activate the home screen and onscreen keyboard on mobile devices. The white version features specific keys mapped for use with Mac/iOS, while the black version has specific keys mapped for use with PC/Android. Other features include an on/off switch and sleep function to maximize battery life. If desired, users can wirelessly switch between 5 connected devices with the simple press of a button or can create a wired connection via the included USB cable".
The manufacturer touts the following features:
Bluetooth – Wireless up to 33 feet
Change instantly from wireless Bluetooth to wired connection
Switch between up to 5 connected devices
Media and function keys different devices: Mac support OSX and iOS / PC supports iOS, Android, Windows
Quiet, responsive keys
Auto-sleep function extends battery life
Non-slip rubber feet
I prefer wired keyboards because I hate batteries, but I can foresee situations where having a full-size wireless keyboard could come in handy. The fact that it can be wired or wireless and can work with mobile operating systems like iOS and Android makes it immensely versatile and useful. Plus, unlike Apple's Wireless keyboard, a number pad is included -- nice!
Even though each model is designed with OS X or Windows in mind, they should work fine interchangeably. Each one should also work well on Linux or a Chromebook. Best of all, you can switch between up to 5 devices on the fly, by using the function key. This is ideal for someone that wants a wireless keyboard and runs multiple operating systems on the same machine. For example, when switching between Windows and Linux, you will not need to pair over and over again.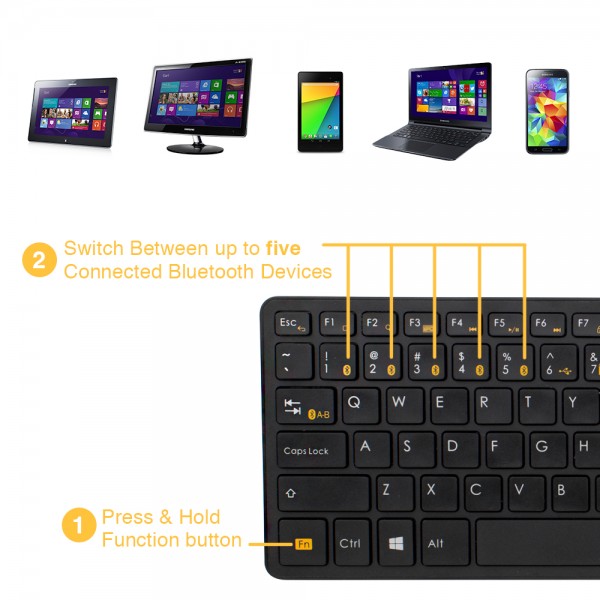 While I have my eye on the black variant, both look rather sexy. Quite frankly, the $54.99 price tag is rather reasonable. Of course, how it performs at typing is the real test. Even though it looks like the Apple Wired Keyboard, that doesn't mean it will have the same quality or performance. Hopefully I can get my hands on one soon for review.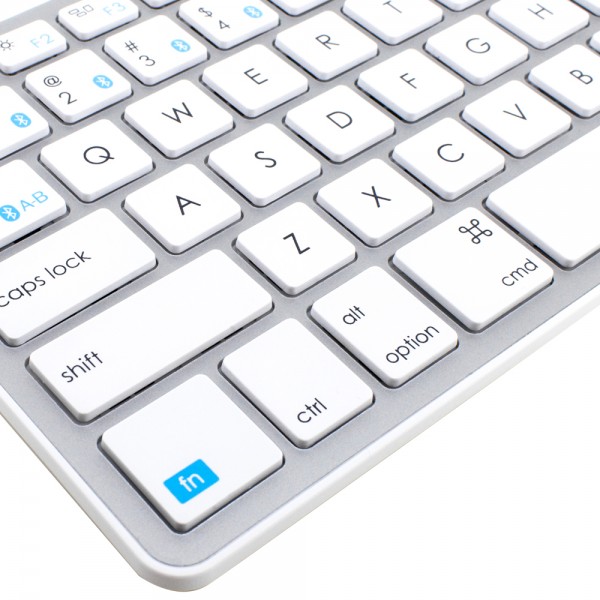 If you are interested in buying, you can get the white one here and the black one here. Tell me in the comments if you buy it.