View images inside archives with Honeyview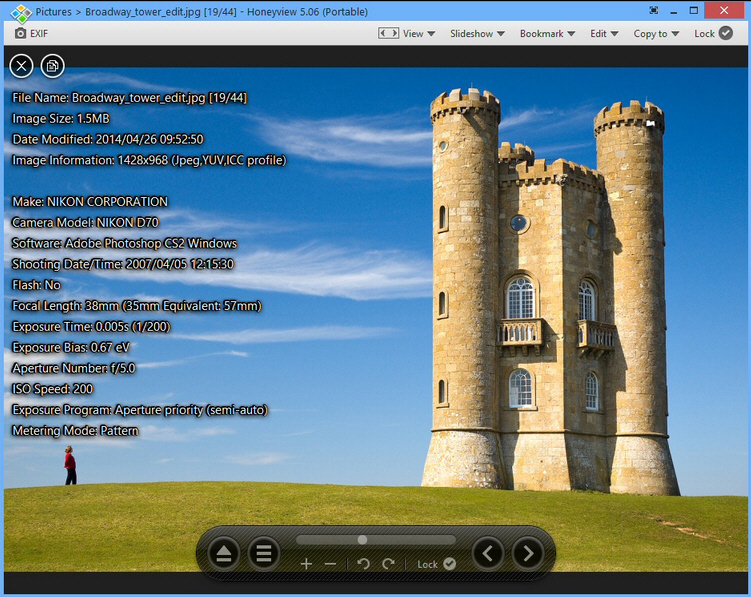 There are thousands of image viewers available for Windows, and the chances are you already have more than you need. Does the free Honeyview have anything to make it worth a download? Let's see.
One immediate plus is that the program comes from Bandisoft, developer of the excellent free archiver Bandizip, and a firm that knows exactly what it's doing.
Another is the wide file format support. Honeyview opens all the usual file types (JPG, PNG, GIF…), 10+ RAW formats and many others (PSD, TIFF, WebP, DDS…). What's more, smart use of a little Bandizip code means the program can also directly view files inside various archive formats including ZIP, RAR, 7Z, LZH, TAR, ALZ, and EGG.
Every good image viewer needs plenty of navigation options, and Honeyview has more than its share. You can move one image forward (or back) by spinning the mouse wheel, clicking Back/ Next buttons or using the arrow keys; Ctrl+PgUp or Ctrl+PgDn jumps forward or back by 10 images; a scroll bar allows you to jump straight to some preferred position (image 31/44); the Home/ End keys go straight to the first or last image; or one click opens a thumbnail browser to help you find the photo you need.
The core image viewer is impressive, too, with a host of zoom controls, optional EXIF tag display, bookmarking, slideshow support (including a few transitions) and simple editing tools (resize, rotate). It also has plenty of image processing options -- soften, sharpen, flip, gamma compensation, various interpolation types -- yet still remains very fast.
We particularly liked Honeyview's "Photo Folder", a handy place where you can store any interesting photos. Set this up to point at whatever folder you like, then start browsing as normal, press Ins when you spot a photo you need, and it's copied to the Photo Folder. A Ctrl+Ins function alternatively moves images to the Photo Folder, but both options make it easier to sort and organize your pictures.
Extras include support for displaying GPS-tagged photo locations on Google maps. There's a pile of configuration options. Honeyview supports 23 languages, and it comes bundled in a convenient portable package.
We like the program a lot, but this is a tough market, and if you're currently completely happy with IrfanView or something similar then there's probably not quite enough here to persuade you to change.
But if you could use the archive viewer, maybe would appreciate the "Photo Folder" or image processing options then Honeyview is certainly worth a try.