Best Windows 8 apps this week

Ninety-fifth in a series. Welcome to this week's episode of the best new apps and games for Microsoft's Windows 8.x operating system.
This week has been rather uneventful. Microsoft did release an update for its OneNote application that adds options to print notebooks and pages to the app among other things.
As far as app releases are concerned, there have not been many this week. The to-do app Wunderlist was the only high profile release this week.
As always, if I missed an app or game that has been released this week that you believe is particularly good, let me know in the comments below or notify me via email instead.
Here is this week's selection of apps and games.
Red Stripe Deals
Up to six apps and games are discounted by 50 percent or more each week. This is this week's selection:
Best Windows app of the week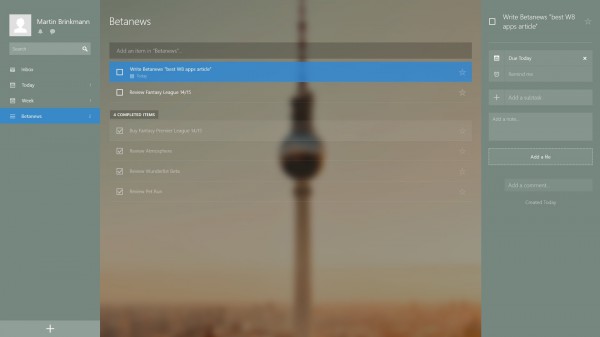 Wunderlist is a popular to-do list and task application that is now available as a beta version for Windows.
The app requires that you create an account or sign in to an existing one before you can start using it.
If you sign in to an existing account all your tasks are synchronized to your device automatically.
The application is comfortable to use. You can add new tasks easily and file it into a category as well if you like.
Tasks can have due dates and reminders associated with them, as well as sub-tasks, notes, comments, and files.
It is furthermore possible to mark tasks done with a single click or tap, and to favorite tasks which displays them in the starred category as well.
Lists can be made public from within the app. This assigns a public URL to them which anyone with knowledge of it can access.
Last but not least, it is possible to invite other users to lists that you have created.
Other apps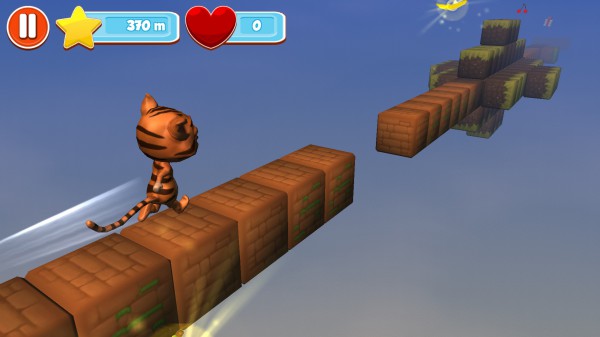 So-called running games such as Temple Run or Minion Rush are hugely popular.
Pet Run distinguishes itself from these type of games by introducing a three dimensional component to the game.
Instead of moving left, right, up and down, it is the terrain that you can manipulate on top of that.
What this means is that you can rotate the screen to make it easier for your character to pass obstacles or catch extras scattered along the way.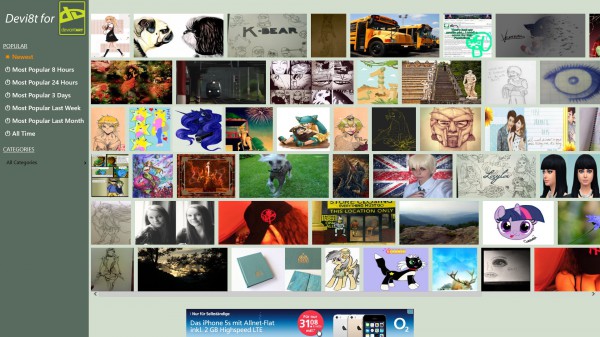 DeviantArt is a large social network for artists to showcase and comment on art including drawings, wallpapers or themes.
The client for Windows 8 enables you to browse categories of interest right from within the app.
Options to browse popular creations or individual categories are provided and the browsing is actually improved over how you browse the Internet site as more results are displayed at the same time on the screen.
A click on a result opens it in full screen in the app. There is unfortunately no option to download it to the local system or interact with it in any way.
This includes no option to open the Deviant Art page or leave a comment.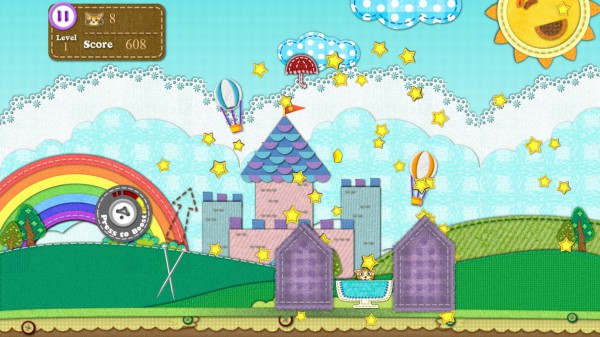 This is a limited preview version of the game Cataline which is available for $2.49 in the store.
The main idea behind the game is to chuck a cat so that it lands in the fishbowl in each level.
This resembles Angry Birds and other games of the genre but with the difference that it is a peaceful variant.
Besides trying to land in fish bowls, you can also attempt to free kitten in each level.
The design of the game is special as its levels are made up entirely of fabric, wool and yarn.
Atmosphere ($0.99, free trial available)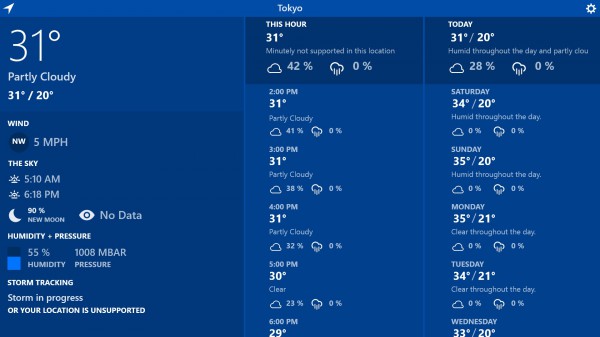 Atmosphere is available for Windows 8 and Windows Phone. It enables you to add one or multiple locations that you want to get weather reports for.
For each location, information about the current weather condition as well as forecasts are provided.
For some locations, storm warnings are provided on top of it.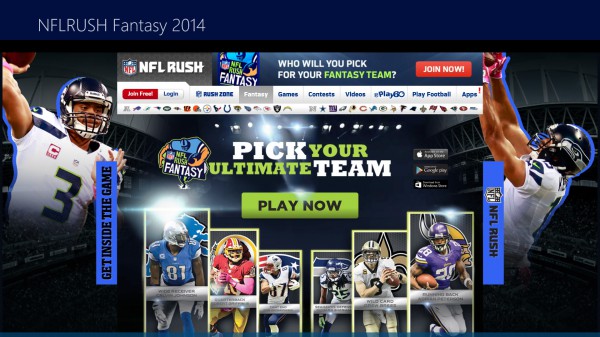 This is the official NFLRush Fantasy Football application for Windows 8.
It syncs with your account which means that you can use this app as well as the official website or other apps to keep track of your team, the leaderboard and groups that you have joined or created.
The NFL has also released the NFL Fantasy Football app for Windows this week.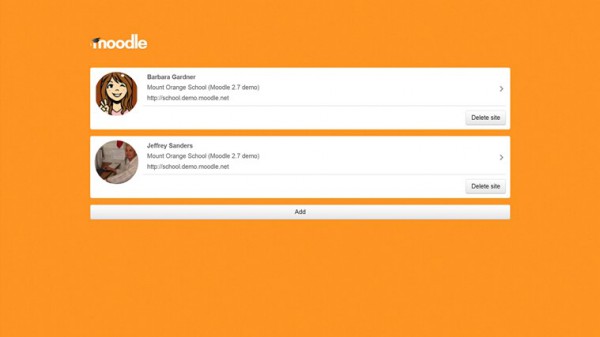 Moodle is an open source learning management system that enables educators to create learning resources for students.
The mobile client works only with installed Moodle servers that you have access to.
It can be used to control and access some of Moodle's features such as recording video or audio, sending private messages to course participants, or downloading and viewing course resources.
Fantasy Premier League 14/15 ($1.49, no trial)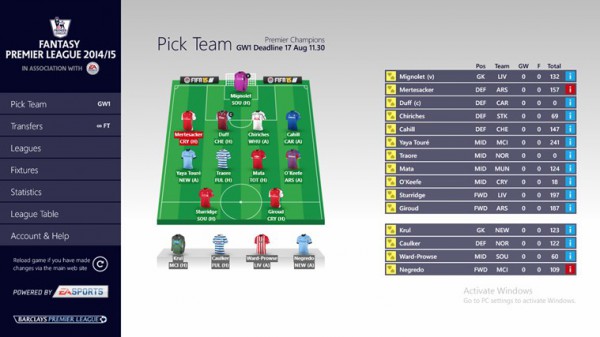 This is the official football game of the Premier League and, according to the apps' description, the biggest football game in the world.
Existing users can sign in to manage their team right away, while new users need to sign up and register a team using the app first.
The app provides users with the means to browse player profiles, take a look at fixtures, keep track of the league's process and read the weekly scout articles for additional insight.