Transform your photos with PhotoWand for Windows 8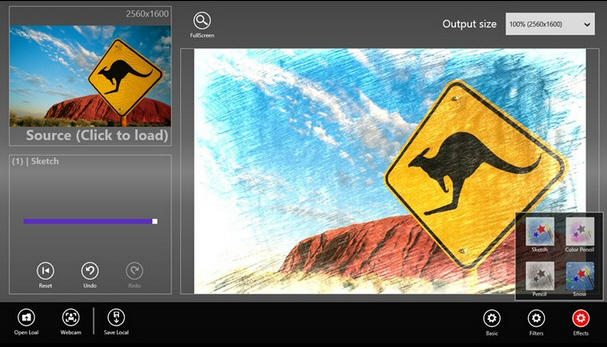 PhotoWand is a free photo effects app for Windows 8. It's not going to compete with the desktop equivalents any time soon, but there's more than enough power here to make it genuinely useful.
There are simple and practical tools to improve your photos, for instance, including a crop function, blur and sharpen filters, and adjustments for hue, saturation, brightness and contrast.
Some of the effects look very ordinary. It's hard to get excited about Negative, B&W and Sepia, and the Oil Paint effect is poor. But Vignette, Lomo and Sunlight are more interesting, and the pencil and related sketch effects are probably good enough to justify installing the app all on their own.
These aren't just canned effects, either: they can all be tweaked in intensity with a slider. We'd like more -- being able to shift the position of your vignette effect should be easy enough -- but this is a start.
If you're happy with the core picture then it can be dressed up with various frames. You also get a few clipart-like stickers (cartoon eyes, faces, love hearts) which can be resized, rotated and positioned for the best effect.
A panel on the left tries to display a list of every effect applied so far. Odd interface design means you typically only see the last two, but that can still be a helpful reminder, and Undo, Redo and Reset (undo everything) buttons enable you to recover from any mistakes.
Once you've finished, your photo may be saved locally, or shared on Facebook with a tap.
Annoyances include a Collage button which doesn't actually lead to a Collage function, but instead opens the Windows 8 Store at an entirely different app. There's also a mildly irritating ad which changes every 20 seconds or so, although you can now pay to have this removed (around $1).
That aside, PhotoWand effortlessly outperforms most of the free app competition, and the sketch effect in particular makes it worth a try.