Argente Utilities review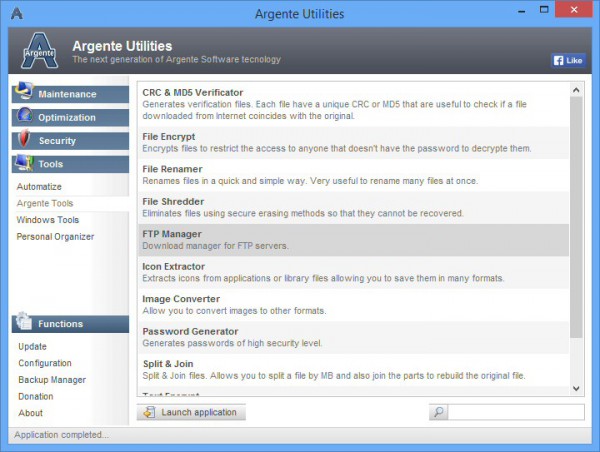 Argente Utilities is a one-stop PC maintenance suite with tools to clean, optimize, repair and generally improve your system's speed and reliability.
It's a relatively lightweight, portable package, arriving as a 7.5MB zip file, and there's no adware or similar hassles: just a gentle "donate" screen which you can dismiss forever with a click.
A plain and text-heavy interface then presents a familiar-looking set of tools, with modules to clean your disk and Registry, control Windows startup programs, wipe system and application histories, and more.
These didn't always work as we expected. The Disk Cleaner didn't clear our temporary folders, for example, instead locating junk files according to their extension (dmp, old, tmp and so on). It's a little slow, but does come with a lengthy list of dubious file types, and makes at least some effort to protect users from harm (by default it ignores read only files and anything in your system folders).
Other tools are rather basic. Uninstall Manager doesn't remove anything itself, and just acts as a shell for your regular uninstallers. Startup Manager disables or deletes startup programs, but can't delay their launch or search for them online. And Process Manager is the most feeble effort at a task manager tool we've ever seen, just listing running processes and providing a button to close them.
There was better news elsewhere. The Registry Cleaner worked well for us; Privacy Cleaner supports cleaning a good range of application and Windows histories; System Repair fixes various system settings (anything from not being able to run EXE files directly to restoring the Recycle Bin icon to the desktop).
Surprisingly, Argente Utilities even includes a Spyware Cleaner. While this isn't something we would ever use in preference to anything else (it even warned us about a perfectly ordinary PNG file on our desktop), it has some value, detecting and removing one or two legitimate threats in our tests.
But perhaps the real surprise here is the Tools section, which includes a collection of smaller utilities for performing general maintenance tasks. There's simple file and text encryption, batch renaming, secure deletion, image conversion, a password generator, file split and join tools, even an FTP client and an Organiser for storing contacts, notes and passwords.
Once again, some of these are ridiculously limited. The File Encrypter and Image Converter only work with one file at a time, for instance: absurd. But others are capable enough, and overall they make a useful addition to the package.
Argente Utilities isn't a great PC cleanup suite, and if you're already using portable copies of CCleaner, Glary Utilities, Malwarebytes Anti-Malware maybe, it's probably best left alone.
The package does include some effective modules, though, and its value comes in providing a single portable framework which covers them all. If you'll use extras like the FTP client and Personal Organizer, as well as the more conventional Registry and Privacy cleaners, then it just might be worth a try.