Create fun photo collages in seconds with Shape Collage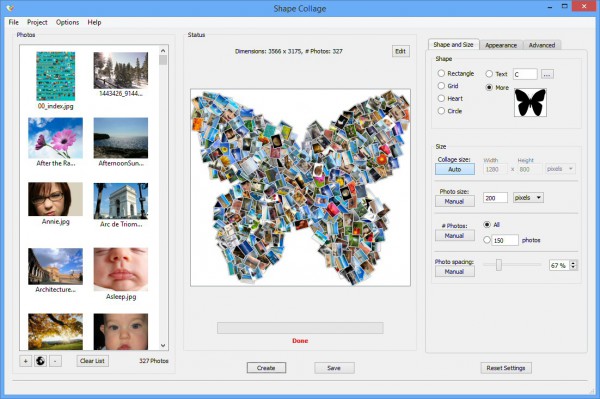 Shape Collage is a photo collage tool with a difference. You're not restricted to creating collages with the standard rectangle or "pile of photos" look: they can use whatever shape you like.
The free-for-personal-use program crams a lot of functionality into a single window, but smart interface design means it's still very easy to use. Click the "Add" button, choose a few photos (local, from your online accounts or a general internet search), click "Create" and that's it: your first collage.
By default this starts with an ordinary rectangle, but Grid, Heart and Rectangle shapes are just a click away. A Text option allows you to use the shape of any letter, and there are various simple clipart shapes on offer, including a cat, butterfly, star, jigsaw piece and footprint.
If this isn't enough then you're able to customize the shape with a simple painting tool. You can even import an image as your template, although the results won't always be good. The program works in a very simple way -- light areas will remain blank, dark parts are used as a part of the collage -- so you might have to tweak brightness, contrast, colors and so on before anything recognizable appears.
Once you have your core shape, it can be customized in various ways. Shape Collage offers full control over the number of photos to use, their spacing, shadows and more. Your collage background can be set to a single colour, a photo, or made transparent. Define the collage size and it's ready to save as a JPG or PNG image.
The free edition does have a few restrictions, and in particular adds a text watermark to every collage -- but that's not as bad as it sounds. The letters aren't too large, they're very lightly colored, and are positioned well out of the way. It's about as unobtrusive a watermark as we've ever seen.
On balance, then, Shape Collage is a must-try for anyone interested in photo collages. Go take a look.