Zotac unveils ZBOX PI320 pico -- a tiny PC running Windows 8.1 with Bing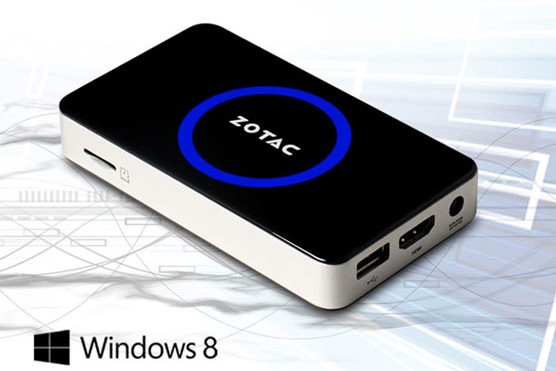 Technology is almost always shrinking. The only thing that seems to keep getting physically bigger is displays (monitors). This is the reason that smartphones are now getting huge -- people like more real estate on which to work. Before the smartphone was popularized, cell phones were getting ridiculously tiny.
Home computers have been shrinking too -- laptops keep getting thinner, and desktops keep getting smaller. However, desktops still command too much of a footprint on a desk. The tiny Raspberry Pi, when paired with Linux, showed the world what could be, but Windows machines would never achieve such size, right? Wrong. Today, Zotac unveils a Windows computer that is impossibly small -- the ZBOX PI320 pico.
"At the heart of the ZOTAC ZBOX PI320 pico is a quad-core Intel Atom processor with Intel HD Graphics technology for snappy system responsiveness and stunning high-definition video playback capabilities. The very energy-efficient processor is cooled with a fan-less heatsink that generates zero noise for an excellent silent computing experience", says Zotac.
The manufacturer further explains, "a single HDMI output that's capable of up to 1080p resolution enables the ZOTAC ZBOX PI320 pico to easily connect to most LCD monitors and displays. High-speed 10/100 Ethernet, 802.11n Wi-Fi, and Bluetooth 4.0 technologies ensure the ZOTAC ZBOX PI320 pico delivers fast networking performance with and without wires".
While the form factor is tiny, the possibilities are not. This computer runs a fully-capable version of Windows, so the user is only limited by their own imagination. Hell, it should run a Linux distro like a champ too.
This can easily be someone's main computer, especially if you add a roomy USB hard drive or large micro SD card. This could make a really nice portable HTPC as well, easily going in luggage and connecting to a hotel TV by HDMI.
Unfortunately, price and availability have not been announced. However, if you need such a tiny computer, you are likely willing to wait.
The manufacturer lists the following specs:
Product
ZBOX PI320 pico
Memory
2GB DDR3L
Storage
32GB eMMC (integrated)
Expandable via micro SD/SDHC/SDXC (up to 128GB)
CPU
Intel Atom Z3735F (quad-core, 1.33 GHz)
Burst frequency up to 1.83 GHz
GPU
Intel HD Graphics
Video Memory
Shared Memory
Display Options
HDMI
Card Reader
3-in-1 (micro SD/SDHC/SDXC)
SATA
N/A
Ethernet
10/100Mbps
WiFi
Onboard 802.11n Wi-Fi & Bluetooth 4.0
USB Ports
3 USB 2.0
Audio
HDMI audio (bitstream)
3.5mm output
DirectX Support
DirectX 11
Other Features
Intel Virtualization Technology (VT-x)
Windows
Windows 8.1 with Bing (x86) preinstalled
Will you buy the ZBOX PI320 pico? Tell me in the comments