Display your external IP address on the desktop with Mr.IP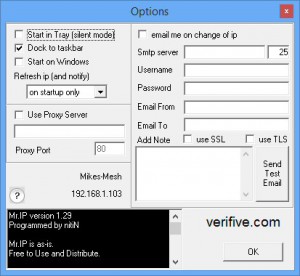 Discovering your external IP address is generally very easy. Just visit a site like WhatIsMyIP and it'll give you the IP address, location, ISP, and a whole lot more.
If you need speedy access to this address all the time, though, it might be simpler to use Mr.IP, a tiny free tool which permanently displays your internet -- or external -- IP on the desktop.
The program arrives with an installer, but it doesn't contain adware or anything significant. Install it, copy the program files to a USB stick, and we found they could be used on other PCs without difficulty.
On launch, Mr.IP displays your internet IP address in a tiny always-on-top window above the system tray. Double-clicking this copies your IP address to the clipboard, and you can close the window if it gets in the way.
Right-clicking the window title bar displays options to refresh the IP, or undock Mr.IP's window, allowing it to be positioned elsewhere.
The interface is a problem. It's poorly designed; the window is way too large for the font used (or the font could be increased for easier viewing). It's also ugly. The title bar should really go, and there's no control over how it looks, a problem when normally it's always in view.
Fortunately there is another option. Click the minimize button to the right of the window and it'll close. The IP address won't permanently be on display, but just hover the mouse cursor over Mr.IP's system tray icon and it'll be displayed as a tooltip.
There are some more advanced features, too. The program can be set up to launch along with Windows, to automatically refresh your IP address every few hours, even to send an email alert when your address changes (no SSL/ TLS support, though, so Gmail can't be used).
Mr.IP would benefit from an interface redesign, but if you need an easier way to find your external IP then it already works well enough. Grab a copy now, maybe they'll fix the visuals later.