Meet Samsung Galaxy Note 4 and Note Edge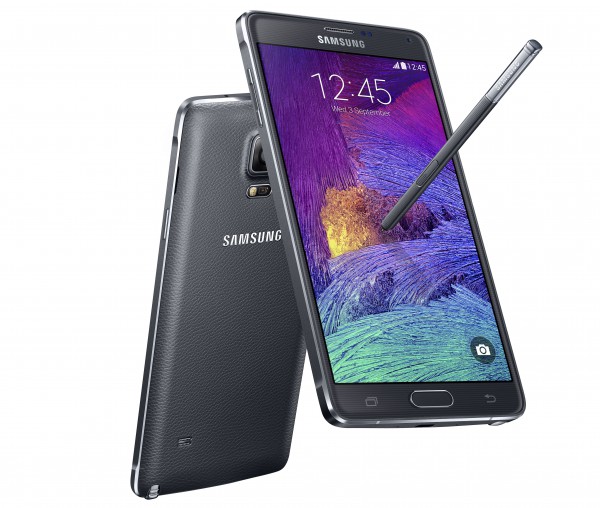 Samsung is single-handedly responsible for creating the phablet category three years ago with the original Galaxy Note. Back then, big smartphones were believed to be nothing more than a niche, with no chance of ever enjoying mainstream approval. At first, I was actually one of the non-believers. But, as every Galaxy Note iteration has proved time and time again, consumers are actually quite fond of the idea of touching a big screen day in and day out.
But, the phablet market has changed dramatically since the original Galaxy Note was released, with more and more Android vendors competing for a slice of the pie. Heck, even Nokia got in on the action, representing Windows Phone, late last year with Lumia 1520 and Lumia 1320. Despite the increased competition, Samsung continues to be viewed as the pack leader, thanks in no small part to the dedicated features its flagship phablets pack. So, what does this year's Galaxy Note has in store?
First of all, we are looking at two Galaxy Notes, actually. There is the successor of the popular Galaxy Note 3, which is called Galaxy Note 4 as expected, and, alongside it, Galaxy Note Edge. (Samsung also announces Gear VR today, at Unpacked 2014 Episode 2.)
Right off the bat, it's easy to notice that Galaxy Note 4 is much nicer looking than any of its past predecessors. It resembles a bigger Galaxy Alpha, which is no bad thing as far as this writer is concerned. The so-called "soft texture back cover" is preserved from Galaxy Note 3.
As expected and predicted, Galaxy Note 4 makes use of a 5.7-inch QHD Super AMOLED display. That gives it a resolution of 1,440 by 2,560 and a pixel density of 515 ppi (pixels per inch). The screen is 2.5D, which means it has a curve to it.
Inside, there is either a 2.7 GHz quad-core Qualcomm Snapdragon 805 processor or an octa-core Exynos 5 Octa 5433 processor, the latter of which is made up of four cores running at 1.9 GHz and four cores running at 1.3 GHz. No matter which one you end up getting, there is 3 GB of RAM on board. My guess is that European and US markets will get the former processor, with Samsung's own processor to be used in a restricted number of markets.
Samsung claims the Galaxy Note 4's battery will be able to be charged to 50 percent in just 30 minutes. It has also increased in size, over its predecessor, to 3,220 mAh (20 mAh larger than in Galaxy Note 3). That said, battery life should be 7.5 percent better, despite the minimal capacity increase. The ultra power-saving mode is present, carried over from Galaxy S5.
As far as imaging is concerned, Galaxy Note 4 packs a 16 MP main camera with optical image stabilization, and a 3.7 MP secondary camera, with a wide F1.9 aperture, which, unsurprisingly, is advertised as great for selfies. Samsung claims, in the presentation, that it has made it easy to take a selfie, but, I think, LG's implementation in G3 is faster still.
Samsung also claims that it has improved noise cancellation and recording quality, thanks to Galaxy Note 4's new microphones. That should lead to better-sounding videos and audio recordings. Naturally, videos can be recorded in 4K.
In the storage department, we are looking at 32 GB of internal memory. There is a microSD card slot which can increase the capacity by a further 64 GB. Oh, and thanks to a partnership with Dropbox, users also get 50 GB of free cloud storage.
S Pen also sees some improvements over its counterpart from Galaxy Note 3, as it now touted to feel closer to a "real pen". Samsung has increased the sensitivity to make this happen. There is a smart select feature which can be triggered by S Pen, to, for instance, allow users to more easily capture details on the display.
Connectivity-wise, Galaxy Note 4 is compatible with 4G LTE cellular networks, supports Wi-Fi 802.11 a/b/g/n/ac, offers Bluetooth 4.1 LE (Low Energy), Infrared, NFC (Near Field Communication), and GPS with Glonass and Baidu support, as the main usual suspects.
Galaxy Note 4 also totes fingerprint and UV sensors, the former of which is a feature Samsung first introduced on Galaxy S5 earlier this year. The latter will alert users when it's time step out of the sunlight, to protect themselves from radiation, while the former adds an extra security feature for users to leverage.
The operating system of choice is Android 4.4 KitKat. There is a new user interface, obviously, which is, again, much nicer looking than before. Samsung has added new customization options, which, among other things, allow users to change the appearance and functionality of the lockscreen. There are improvements for multitasking, which make it easier for users to shrink apps' windows to see more information on the display.
Galaxy Note 4 comes in at 153.5 x 78.6 x 8.5 mm and weighs 176 grams. That makes it slightly taller, narrower, thicker and heavier than Galaxy Note 3, which measures 151.2 x 79.2 x 8.3 mm and weighs 168 grams.
Samsung says Galaxy Note 4 will be available next month, in October, in Blossom Pink, Bronze Gold, Charcoal Black and Frost White. There are no official details concerning pricing at this stage. You can expect to see the usual accessories alongside it.
What About Galaxy Note Edge?
Samsung labels Galaxy Note Edge as a version of Galaxy Note 4 with a curved, edge display. It's basically the same hardware underneath, with a couple of twists. The main display is slightly smaller, at 5.6-inches, but the resolution is the same. It will be available in a single processor configuration, which uses the aforementioned Qualcomm chip. The battery is also smaller, at 3,000 mAh. Galaxy Note Edge is also slightly different in size, coming in at 151.3 x 82.4 x 8.3 mm and weighing 174 grams. Here's how it looks.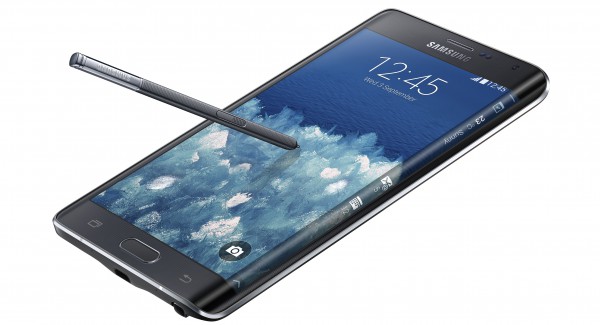 Samsung says Galaxy Note Edge will be available later this year, in Charcoal Black and Frost White.