Someone save us from these huge Android smartphones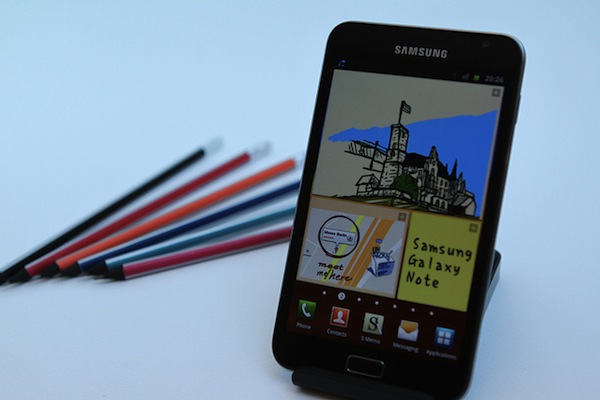 One thing that I can't seem to get to grips with: The way manufacturers think we all have the hands of a basketball player. I'm not joking, as I'm not there yet. Look at all the new smartphones -- they are all bigger than before. It begs the question: when is enough enough?
I'm going to say it now, so I can get it over with: I don't like big phones. I'm a guy, and I love a great display as much as the next person. But I can't seem to love big phones. To me, a smartphone should work as a phone in the first place and as a smartphone second. I do make plenty of calls each day, and I place much value on the size of the device; it needs to fit comfortably in my pocket.
Bigger is (almost) always Better
I'm good with having a bigger screen, but I do have a problem when they go further than what's technologically possible to keep the size down. The Samsung Galaxy Note is hands down the best example of what I'm talking about, despite the functionality of a phone that is a mini-tablet. There's even a name for it -- phablet. I can see the appeal of such a device for someone that always carries a purse (man or woman), but in terms of pocketability it is not the best fit. Note gets the job done and it's a great idea, but the 5.3-inch size pushes the barrier further than what a phone should be like in size. Here you can compare the physical size of the iPhone 4s, Galaxy Nexus and Galaxy Note.
The Samsung Galaxy SIII, which I very much like, and HTC One X are the best examples of where the display size should stop. With a 4.8 inch display for the S3 and 4.7 inches for the One X, we're at a point where going any further means getting out of the phone world and entering the realm of "phablets".
It doesn't take much to look further into what I'm talking about, as every guy has at least a female acquaintance with an iPhone. An older study confirms that women like iPhones better than Android devices. Sure, there are a lot of arguments as to why that is, but I can give you one: there isn't a single Android device that is as good as an iPhone for most women. Generally they prefer handsomer-looking phones that are comfortable to hold, and this is what best fits the bill.
The Market is not ready for Smartphones like the Galaxy Note
Phones like the HTC DROID Incredible 4G LTE (4-inch display) and HTC One S (4.3-inch display) are a dying breed, as manufacturers tend to be more interested in big halo phones rather than invest into smaller devices. Cramming all that technology into a small package is much more difficult. It is common sense that the bigger it is, the easier it is to manufacture.
But what's not popular news and not automatically implied, is that the bigger it is, the harder it is to sell as well. The Galaxy Note for instance sold just 7 million devices from its introduction until June 2012, with Samsung hoping to sell 10 million in 2012. Take the very popular Galaxy S II, which sold 8 million units from late February to June. The sales numbers show what the market needs and gets. There's a 5-inch psychological barrier that's unlikely to be crossed with much enthusiasm any time soon.
What would you Buy?
Until the manufacturing technology allows for displays to use all the space possible, I don't see how we're going to embrace 5-inch+ displays with ease. Current smartphones are approaching a limit of acceptable phone size and unlike the 4-inch barrier, which was crossed with ease, in my opinion, history will not repeat itself unless we grow bigger hands overnight.
Like always, I'm interested in hearing your opinion. Would you buy a similar smartphone to the Galaxy Note?