FileOptimizer 7.0 beta adds lossless FLAC compression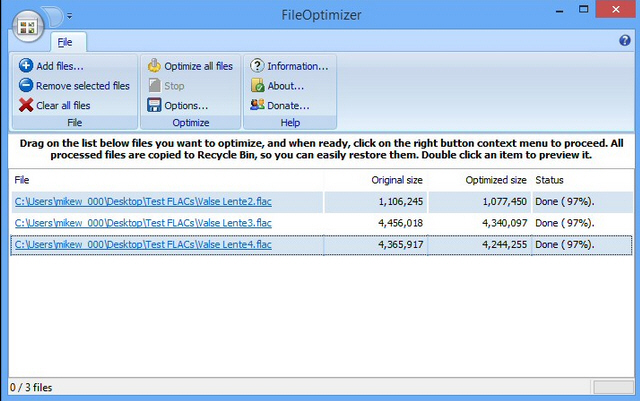 Javier Gutiérrez Chamorro has released the first public beta of his one-stop lossless compression tool, FileOptimizer 7.0.
The major new feature is support for optimizing FLAC files. Our first tests suggest this is going to take a long time (minutes per file) and achieve maybe 2 or 3 percent savings, but it's still a welcome addition to the package.
Integrating the open source Leanify should improve compression rates for GZ, SWF and ZIP files.
PNG compression has been tweaked to try and cut files sizes further, although we're not yet sure how effective that's going to be.
OCX and VBX files may now be optimized via the DLL toolchain. Sounds technical, but you don't have to worry about the details: just drag and drop your files onto the program and they'll be handled automatically.
FileOptimizer uses various open source tools to carry out its optimizations, and these have been updated to improve results. Chamorro highlights GIF and WebP compression as seeing particular improvements.
There are also various changes under the hood, including a brand new plugin execution engine and a range of bug fixes.
We've always found FileOptimizer to deliver good results on a very long list of file types (document, graphics, audio, archive, executable and more), and the latest release has some welcome improvements.
FileOptimizer 7.0 still replaces your source files, though, moving the originals to the Recycle Bin, so be careful: we would recommend working with copies, just for safety.