Samsung manufacturing 3.2TB (terabyte) PCIe SSD -- is the traditional hard drive obsolete?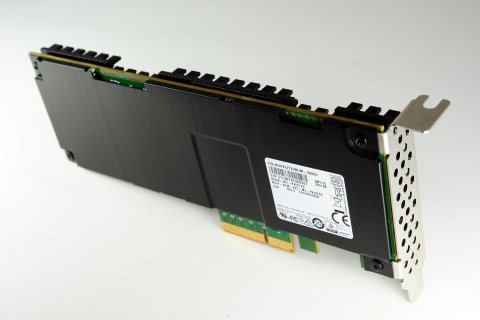 Building desktops is a hobby I still enjoy, even if the younger crowd tends to gravitate towards tablets. Don't get me wrong, I love both the Surface Pro 3 and iPad Air, but there is something satisfying about building something on your own. I particularly like selecting each and every component, like a solid state drive, so that it is uniquely my own.
Lately, the prices of solid state drives have been dropping, but don't be fooled; SATA III is saturated, meaning most drives on the market will soon be obsolete. The future you see, is drives that connect directly to PCIe in a card format. Yes, your future SSD may look like a USB card or sound card. Today, Samsung announces a piece of tech that is sure to excite many nerds -- a 3.2TB PCIe SSD. Whoa.
"Samsung Electronics Co., Ltd., the world leader in advanced memory technology, today announced that it has started mass producing 3.2-terabyte (TB) NVMe PCIe solid state drives (SSDs) based on its 3D V-NAND (Vertical NAND) flash memory technology, for use in high-end enterprise server systems. The new NVMe PCIe SSD, SM1715, utilizes Samsung's proprietary 3D V-NAND in an HHHL (half-height, half-length) card-type form factor, to offer 3.2TB of storage capacity -- doubling Samsung's previous highest NVMe SSD density of 1.6TB", says Samsung.
The manufacturer further explains, "the newly introduced 3.2TB NVMe SSD provides a sequential read speed of 3,000 megabytes per second (MB/s) and writes sequentially at up to 2,200MB/s. It also randomly reads at up to 750,000 IOPS (input output operations per second) and writes randomly at up to 130,000 IOPS. In addition, the 3.2TB SM1715 features outstanding reliability with 10 DWPDs (drive writes per day) for five years. This provides a level of reliability that enterprise server manufacturers have been requesting for their high-end storage solutions".
Good lord, the speed of this card is pure insanity! However, before you get too excited, please know that pricing and availability is unknown. Samsung is only just starting to manufacture this beast, and I expect it to be quite expensive. For the majority of consumers, it will likely be unattainable due to cost.
Still, it is exciting to see solid state drives achieve such monstrous capacity and speed. Hell, with a SSD at 3.2TB, we should probably start writing the eulogy for the traditional hard drive, right?