Google lists the top 10 Halloween costumes -- who or what are you dressing up as?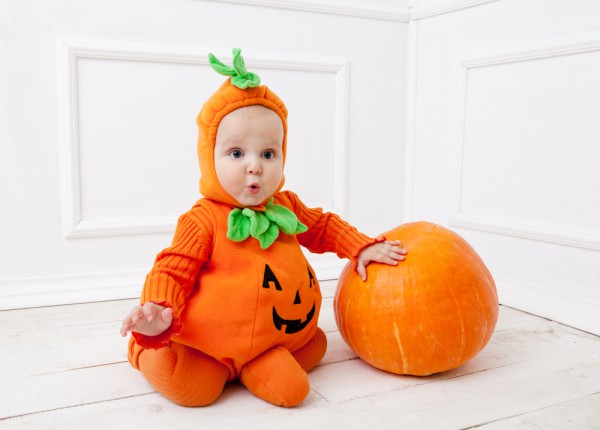 October is one of my favorite months; I get to wear a hoodie, drink pumpkin spice lattes (PSLs) from Starbucks and enjoy Halloween. Sure, I am far too old to trick or treat, but that does not mean that I can't get into the holiday spirit. I go pumpkin picking, carve jack-o'-lanterns, and give out candy to kids that come to my door.
When I was a young man, I did dress up for Halloween, but we were usually too poor to actually buy costumes. I recall one year that I dressed up as a SilverHawk, a popular cartoon in the 80s. My mom put aluminum foil on my head and sent me out with a pillow case for candy. In hindsight, I probably looked insane, but in my mind, I was a SilverHawk. Today, Google announces the top 10 Halloween costumes as per search trends.
"Are you an Elsa, Olaf or Anna? Judging by the top trending searches for Halloween costumes on Google, you're going to see a lot of each on the streets this October 31. The characters from Disney's animated blockbuster make up three of the top five trending costumes this year. While last year's list featured popular choices from TV (Breaking Bad) and the viral video 'What Does The Fox Say', movie-themed costumes are dominating this year. Maleficent and Teenage Mutant Ninja Turtle costumes round out the top five. Costumes from Guardians of the Galaxy, Captain America and The Avengers take places 6 through 8, while video-game Assassin's Creed and pet costume were the only non-movie themed costumes trend to make the Top 10", says Danielle Bowers, Data and Trends Manager, Google.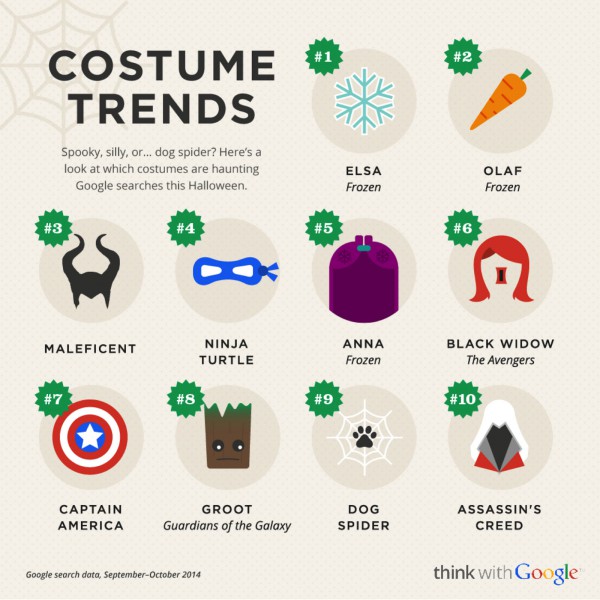 Bowers further explains, "Halloween is one of those holidays filled with the do-it-yourself spirit, particularly if the DIY costume and general Halloween trends on Google Search are any indication. But nowhere is the the DIY Halloween spirit more alive than on YouTube. Last year, nearly one out of three Halloween costume searches on YouTube were for DIY costumes. Searches for DIY costumes on YouTube grew more than 200 percent in 2013 compared to the previous year".

So apparently, my mom's use of aluminum foil is not so crazy, as people are still going the do-it-yourself route. This is not surprising as the economy continues to create difficult financial circumstances for many. Quite frankly, buying a costume that gets worn one day and then discarded, is not a smart use of money.
Believe it or not though, dog costumes are trending 15 percent higher than last year. I wish I could make fun of these people, but I am one of them -- we dress our dog up every year and enter her into the local Petco costume contest. Hell, she actually won last year! Is it silly? Sure, but the family enjoys it and the dogs usually go home with some free treats.
Who or what are you dressing as this year? Tell me in the comments.
Photo credit: My Good Images / Shutterstock