Google and Asus launch Nexus Player for video, music and game-playing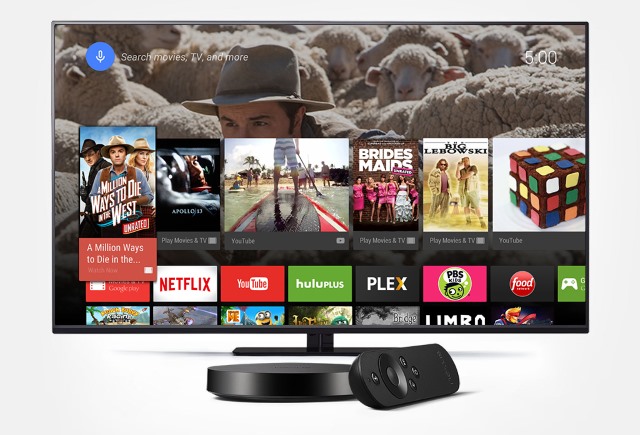 Well... Android Lollipop (née Android 5.0), the Nexus 6 and Nexus 9 were expected, but Google managed to sneak a little 'one more thing' addition to today's batch of announcements. Nexus Player, as you'd probably guess from the name (and certainly from the headline), is a streaming media device. But in addition to catering for all your video and music streaming needs, the device also doubles up as a games console.
In many ways the Nexus Player is an extension of Chromecast -- there is even casting support. Google has teamed up with Asus to bring us a device that not only streams media, but also streams games from phones and tablets. And this aims to be more than a console for casual gamers; there's even a gamepad that's very reminiscent of the Xbox One controller.
The device itself takes the appearance of a big, black period. Google says that "the Nexus Player console is designed to fit beautifully alongside your current home entertainment setup", and it certainly wouldn't look out of place next to most TVs. We've already mentioned the gamepad which owes quite a lot to the Microsoft design team and there's also a remote -- which this time borrows ideas from Roku. The Player is powered by a 1.8GHz quad-core Atom processor which opens up the opportunity to play 3D games.
In the box you'll get a Nexus Player and a remote -- sadly, the controller is going to be sold separately. The remote is a simple-looking affair with just four buttons and a direction ring. Google says that it is suitable for "playing casual games", so it should afford enough control to allow for a quick game of Angry Birds or Candy Crush Saga from the sofa -- and you can then pick up from where you left off on your phone or tablet. The remote is more than a standard buttoned controller. There's also voice activation which can be used for controlling media playback, as well as playing games.
Nexus Player is primarily a streaming media device and there is tight integration with other platforms. Content can be cast from Android, iOS, Windows and OS X, with playback position synced between devices making it easy to switch platforms mid-movie. There's already support for a wide range of apps such as Plex, Netflix and Hulu, but content can also be purchased from the Play Store.
The Nexus Player, like the Nexus 9, is available to pre-order from 17 October and will ship 3 November. Google has confirmed that the Nexus Player with remote will cost $99.99, and will come with $20 of Google Play credit. The optional controller will cost $39.99.