Log into Gmail with a USB drive -- Google adds support for Security Key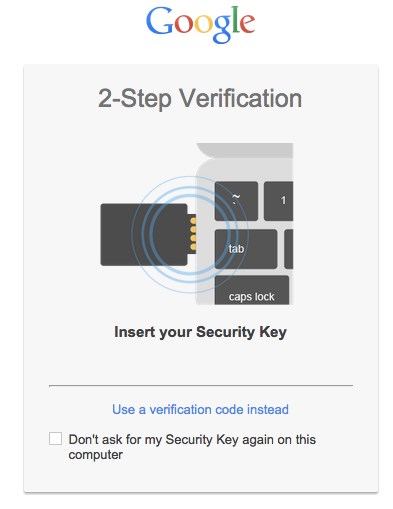 Two factor authentication (or two step verification, if you prefer) is very a la mode at the moment. Actually, it has been pushed by companies for some time, but a number of high profile security problems recently has brought it back to public attention again.
Enabling the security feature usually means entering a password as normal, in addition to a passcode sent to a mobile device. Today, Google makes things a little easier for, in its own words, "particularly security-sensitive individuals" by introducing support for Security Key.
Rather than relying on a mobile phone or tablet, Security Key reduces two factor authentication to working with a USB drive. Requirement for a physical 'key' greatly reduces the chances of security breaches and means it matters less if a third party determines your account password.
As Google explains in its announcement blog post: "Rather than typing a code, just insert Security Key into your computer's USB port and tap it when prompted in Chrome. When you sign into your Google Account using Chrome and Security Key, you can be sure that the cryptographic signature cannot be phished".
Security is based on the open Universal 2nd Factor (U2F) protocol, so don't be surprised if support is added to other services as well. This is not a security tool that will be universally embraced as Security Key is only compatible with Google Chrome, although it can be used with Windows, OS X, Linux and Chrome OS.