Amazon Kindle Voyage Wi-Fi + free 3G and Leather Origami Cover [Review]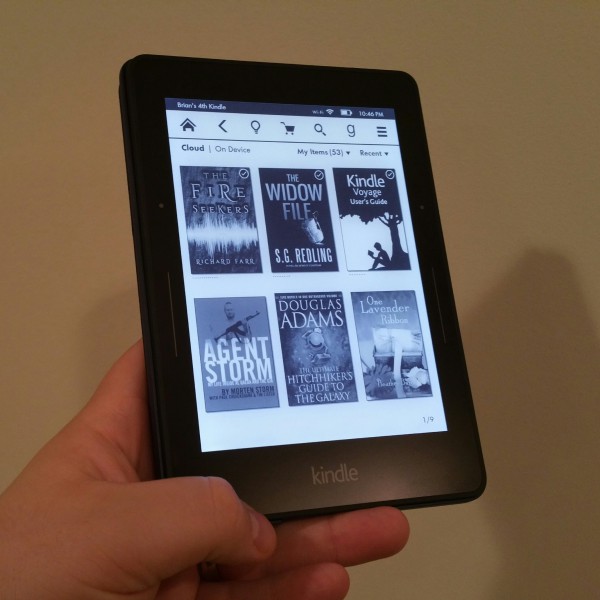 It seems like everyone has a tablet or phablet nowadays. These devices are wonderful as they let you do many things, like listening to music, surfing the web and reading. Yes, you can read a book on an iPad, Nexus 7 or Galaxy Note, but you shouldn't  -- your eyes do not want you to. You see, it's debatable, but generally accepted, that back-lit LCD displays can strain eyes and lend to eye fatigue. Also, they tend to have poor readability in bright sunlight.
Amazon solved these dilemmas in 2007 with the original Kindle -- an e-ink based e-reader, that worked well in sunlight and was easy on eyes. Since then, there have been many upgrades to the original design, leading up to the all-new Kindle Voyage. I have been reading many a book on the device and want to share my impressions with you.
Amazon touted features
High-resolution 300 ppi display -- looks even more like the printed page
Reimagined page turns -- PagePress enables you to turn the page without lifting a finger
New adaptive front light -- provides ideal brightness, day or night
Thinnest Kindle ever
Battery lasts weeks, not hours
Unboxing
Kindle Voyage
When I took it out of the box, I was shocked by how light it was. Sure, my PaperWhite is light too, but this goes even further, entering the unreal category. When it comes to an e-reader, heft, or lack there of, is one of the most important aspects. Think about it -- whether you are in bed or relaxing on the beach, you do not want your wrist to hurt from one-handed use. The Kindle Voyage is like holding nothing at all. This leads to a more immersive reading experience.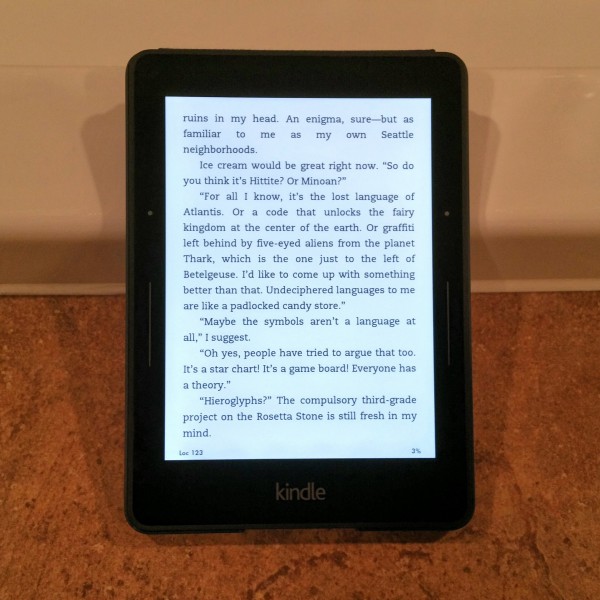 The 6 inch screen is lit, which makes it ideal for using in the dark. This is great, because you can read in bed without disturbing the person sleeping next to you. However, it is front-lit, which is even better, as the light is shining on the screen and not at your eyes directly. This allows for much more comfortable viewing; your eyes will thank you. Hell, the 300 ppi screen is no slouch either, offering an experience that rivals actual paper.
The screen remains touch-capable for navigation, just like the previous generation PaperWhite, but you can now turn pages using buttons on the right and left bezels too. Amazon took a rather smart approach, and put "back" and "forward" buttons on both sides. This way, no matter which hand you are using to hold the Kindle, you can navigate in both directions one-handed. Of course, if you prefer screen-swipes, that is still available. Me? I prefer the buttons, so I do not get smudges on the screen; although, it is rather smudge-proof.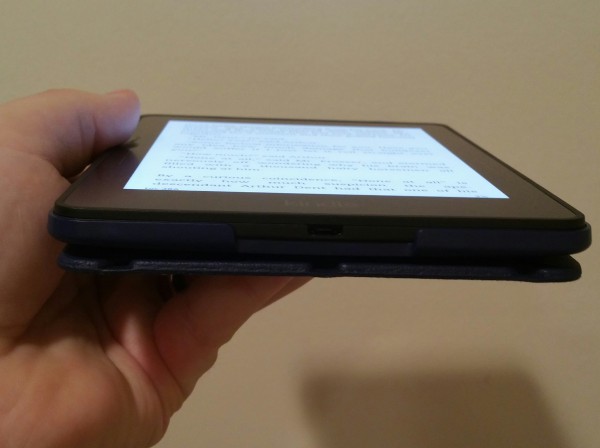 You can get the Kindle Voyage in both a Wi-Fi or 3G model, and I highly recommend opting for the latter. Why? Well, consider this -- if you are away from home and do not have access to Wi-Fi, you can still buy and download books and magazines. With the Wi-Fi only model, you need to take the approach of predetermining how much content you want to take with you before leaving the house (or searching for a potentially dangerous open Wi-Fi connection). Is it more expensive? Yes, but the 3G access is free and you will be glad you spent the money.
Battery life is amazing, and should last you weeks between charging. Best of all, the Kindle Voyage charges with a standard micro USB connection. Sadly, a power brick is not included in the box, so you must use one of your existing chargers or charge it using a computer. I respect Amazon for recognizing that yet another charger is just being wasteful when people have so many, but still, I think every device that needs to be charged should come with a standalone charger.
Origami Cover
The new $45 Origami Cover for the Kindle Voyage is very similar to the covers for the Fire HD and Fire HDX. It is extremely durable and offers great protection for your investment. It is not function over form, however, as it is very beautiful and light, even offering an option for genuine leather ($60) as you can see in the image below.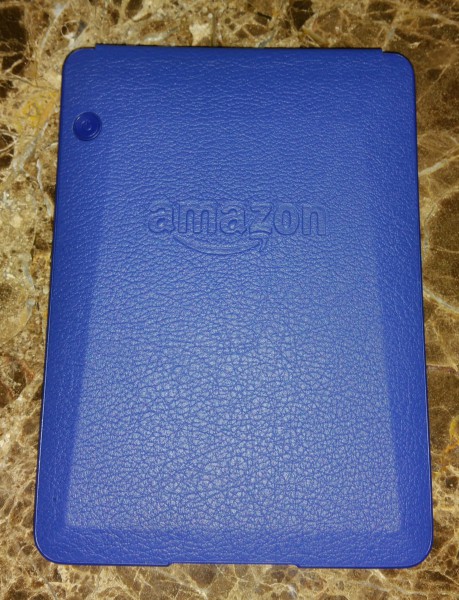 The true greatness of the cover, however, is the ability to prop up the Kindle Voyage for hands-free reading. Imagine this, you are on an airplane and you want to read a book. Rather than hold it in your hand and try to get comfortable, you prop up the e-reader on the pull-down snack tray and relax. Even a student at a desk or table can take this approach.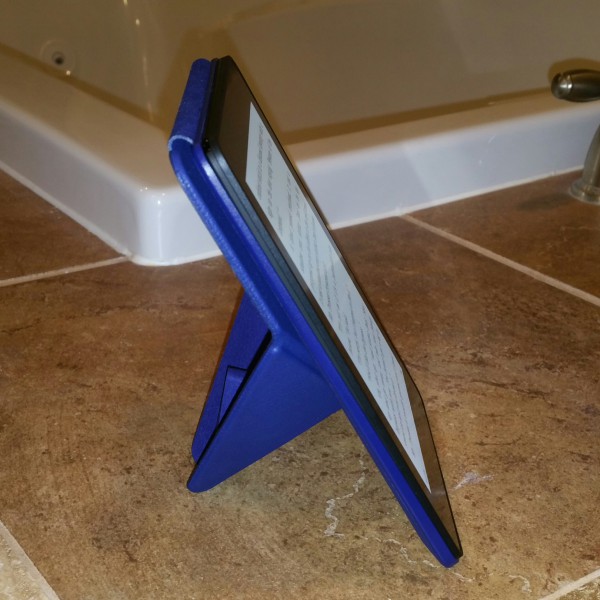 Strangely, the power button remains available on the rear of the cover, but I cannot imagine a scenario where it will be used. The Origami Cover turns the screen on and off automatically when it is opened or shut. With it opened, the flap folds around the back and covers the power button. So, in a screen-on scenario, the button is covered. With the flap shut on top of the screen, the button is available, but now the screen is off. It doesn't hurt to offer the button, but it makes little sense.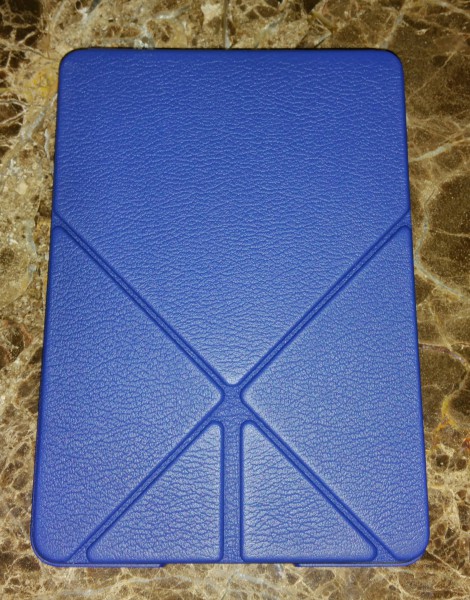 Conclusion
If you already own a Kindle PaperWhite, the Voyage is not a necessary upgrade. You can probably wait for next year before considering a new model. However, users of older-gen Kindles or consumers that do not own a dedicated e-reader, should definitely take notice.
The Kindle Voyage has a beautiful screen, solid design and access to the largest e-book store in the world. You will not find a better pure e-reader on the market, but be prepared to pay up; the starting price is $199, but with 3G and the removal of "Special Offers" (advertisements), the cost climbs to $289.
If that seems like too much money, or if you do not read often enough to justify the cost, the basic Kindle starts at $79 and we will have a review of that soon.
If you do read a lot and prefer premium devices, the Kindle Voyage is highly recommended. It is a luxurious reading experience that is worth ever penny of its premium price. However, if you do buy it, I suggest splurging on the 3G and Origami case for the full experience.