Acer announces the Aspire Switch 12 -- a cute and functional multi-mode computer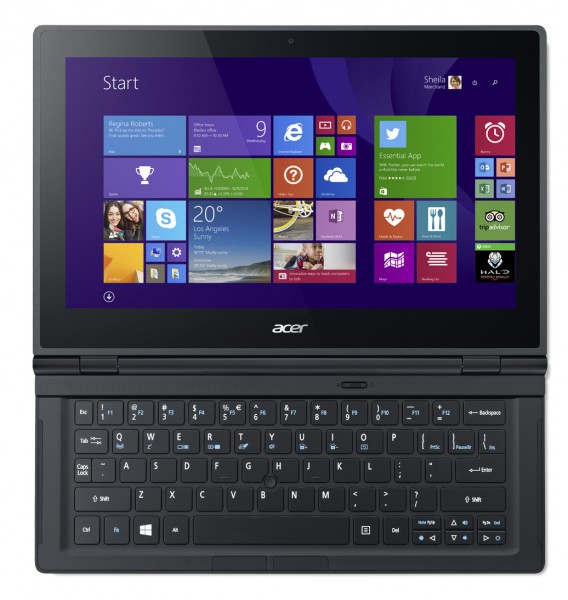 Acer makes some cool computers and has been known to take some chances on design. Sure, the company produces the typical clam-shell laptops, but also computers like the R7, which features a unique hinge and experience. I appreciate a company going out on a limb with computer designs, as it can fall flat or be a success.
Today, Acer takes another unique approach to design with the Aspire Switch 12 -- an evolution of the previously released Switch 10. Not only is the screen larger, but the functionality increases immensely. Oh and did I mention that it is fanless? Yeah baby, no fan-whirring!
"Equipped with a unique kickstand design that features a magnetic and latch-less detachable keyboard, the centerpiece of the Aspire Switch 12 is its ability to easily transition between five distinct modes (notebook, pad, display, tent and desktop). Through these five modes, users can find a configuration for just about any need and use it as a laptop, tablet with or without keyboard, or desktop PC. It can also be optimized for sharing information and viewing multimedia (display and tent modes) in conjunction with its dual front-facing speakers for a rich and full audio experience on the go", says Acer.
The manufacturer further explains, "the Aspire Switch 12 is powered by the new Intel Core M processor for a compelling combination of computing performance and stunning display graphics. The processor also delivers significant reduction in power consumption, allowing it to run up to 8 hours during video playback. What's more, it also sports a fan-less design that makes it whisper quite, while further complementing its reduced power consumption".
As you can see in the above pictures, the Aspire Switch 12 is extremely versatile and attractive; it can be a tablet, desktop, laptop and more. I particularly love the removable keyboard concept, as sometimes it is nice to get some distance between yourself and the display when working. I do worry about the lack of trackpad, although the pointing stick (aka nub or nipple), should work well in conjunction with the touch screen. I would probably use a small travel mouse during heavier use.
The screen looks rather nice; 1080p is perfectly fine for a 12.5 inch display, while Gorilla Glass should keep it free from scratches. Watching movies should be a great experience, especially with a fanless CPU, as fan-whirring will not be a distraction. Not to mention, the front-facing speakers will enhance watching movies and listening to music too.
Unfortunately, a full HDMI port is not available, instead offering the micro variant. This means your existing full-size HDMI cables will not work. No worries though, a compatible cable only costs about $10 or less on Amazon.
If you are interested, I have some bad news -- this cute little computer will not be available in the USA until Q1 of 2015. To make matters worse, the price is unknown, so we must wait for this too.
Will you buy the Aspire Switch 12? Tell me in the comments.