It's NFL season and the Moto X now has football leather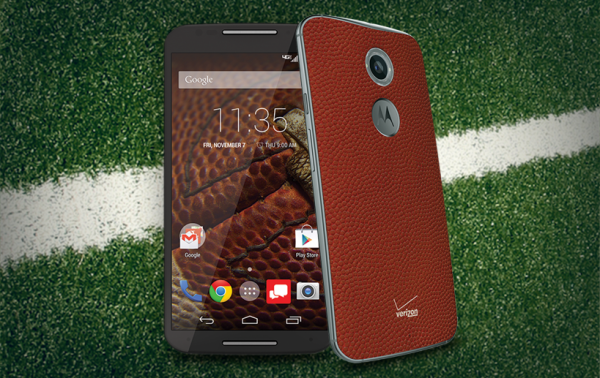 We've reached the midway point of football season. Races are shaping up between NFL teams that are battling for a playoff berth, while others have fallen by the wayside -- I won't name those, to spare the poor fans. But sometimes sports meets technology, and it does so at an increasingly high rate. That happens today as Motorola joins the club of "NFL fans".
The Moto X has gained notoriety, partially because of its functionality, and largely with its customized backs. Perhaps not everyone wants a phone with a wood back, but apparently some do. Now Motorola is going a bit further, adding a "football back". In other words, it has the look and texture of a game ball.
"Featuring the same Horween genuine football leather trusted by college and pro athletes, the new 'football' phones will be available exclusively at Verizon Wireless stores and on verizonwireless.com beginning today", the wireless carrier announces. Football fans can still personalize the new backing by using the MotoMaker website.
It's a great accessory for game day. Break it out to text your friends about the big tailgating party or just to discuss the game if you're wachting from home. If you've been considering the handset then now you have one more option that may push you over the edge -- providing you happen to like football.